Our Manufacturing Facility
Proud to serve with integrity
Accountability and improvement are among our core objectives and we hold our products and processes to the highest standards. Ignoring the many technological pre-engineered metal building design breakthroughs that have been made over just the past ten years would be a terrible mistake but those advances are what many online metal building marts are least concerned about. Decades old design techniques, dated manufacturing equipment, and old technologies are inherently cheaper.
Sloppy, out-of-date designs can leave you or your crew in a constant struggle on the job site. We're different. Why? Because we design & engineer buildings that are based on the robustness of today's most state of the art manufacturing equipment and erection techniques. Isn't that what you should expect? Your Armstrong building will look great, go up quick, and meet your unique needs.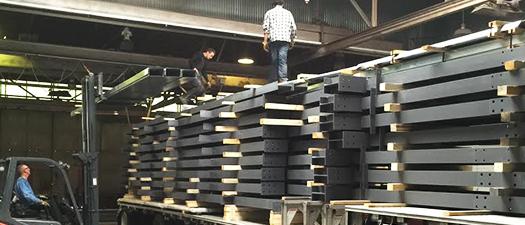 Our detailing & engineering department has distinguished itself in the industry by providing timely and quality design and detail engineering services. These guys do the heavy lifting with respect to our product design & development. With over 150+ combined years of experience, they excel in designing stunning building systems that are easy to erect and drafting easy to read blueprints & plans. They develop connection calculations & fully detailed approval, permit, construction, and shop drawings in house at our corporate headquarters. They're aces at ensuring tight deadlines are met and phases are completed as planned. They've got an eye for design and they ensure​ ​that your building is manufactured to your exact requirements.
We don't stock "clearance" buildings on a shelf. Every building we deliver​ ​requires fabrication time and shipping time. Fabrication lead times vary for each building and the shipping time is based on the method of shipment you choose. At Armstrong Steel, we're dedicated to delivering your building as quickly and affordably as possible. We offer a range of delivery and pickup options, so you can choose the shipping method that best meets your needs. We understand that great customer service is a strong competitive advantage. Our repeat customers keep coming back because we indisputably deliver a superior product and outstanding customer support. Folks share their experience with others and ultimately that is why repeat business is one of our strengths. We don't adhere to the same standards as the competition!
Our plant employs manufacturing professionals of every kind. Welders, machinists, foremen and laborers have come from all across the state of Colorado to better serve you. Armstrong Steel also offers training to Coloradans on our advanced modern machinery, so we can keep our state on the forefront of new technology, manufacturing processes, and job creation. When we invest in the people of Colorado, we're investing in our future. "Made in Colorado" never felt so good.