Armstrong Steel Customer Reviews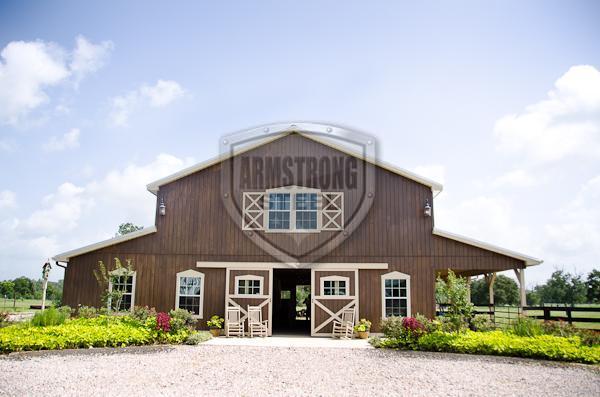 Americans trust Armstrong Steel everyday. Here are some of their stories.
Karla M.
"The quality of my Armstrong Building was excellent. The builder I used had not put up a pre-cut building before. He said it went together well. The few questions he had were answered in a timely manner. Armstrong's project managers worked him through the areas that were in question. I would use Armstrong Steel again. I recommend them for any steel building needs."
Rui D.
"I love the quality of my building. I couldn't find a better building for the price Armstrong came in at and, because of that, I've referred many friends to Armstrong for their building needs. I erected the building myself and it went up in very little time and without havoc. I love my personal shop."
Kendall S.
"The customer service at Armstrong Steel has been GREAT! Kayleigh is always there to answer my questions and continuously gets back with me in a timely manner with any updates. As the contractor for this building, I know my customer is going to be thrilled to have their fireworks warehouse soon."
Anita F.
"Our 30x40x12 Armstrong Steel building looks outstanding and is remarkably well built! The entire process of getting the building was excellent, from picking the perfect color for our custom look to the excellent customer service we received. I'm so glad we bought from a real manufacturer. Anyone who sees the building always admires the neat features. When people ask, I'm proud to tell them it's an Armstrong Steel building! I'm not kidding we tell everyone to give you a call! Thanks again Armstrong!"
Dave W.
"We get compliments on our house all the time, and we're proud to tell everyone where we got this amazing steel building home. When we first thought of building, we looked at traditional building types first, like log cabins and stick built homes. Everything we researched wasn't what we really wanted and we didn't want to end up settling for something that wasn't up our alley. Finally we came across Armstrong Steel and fell in love. Our 3 bedroom, 2 bathroom house is everything we wanted and more. The building went together quickly without any problems. The best part of our house is its incredible energy efficiency. Our heating and electric bill is much lower than what it used to be. We're so glad we went with a steel building home from Armstrong Steel!"
Jeff H.
"I purchased a building from Armstrong in September, 2018 to be used as my dream workshop today and equestrian quarters in the future. The Armstrong team made the process go very smooth from Sales, to Proiect Management, to Logistics. From the very initial step, the Armstrong Team wanted to ensure I got my building exactly the way I wanted and they delivered. Everyone was pleasant and easy to work with, prompt and they went the extra mile to resolve any questions and design issues I had. I would recommend this Armstrong team for any building project."
Walt L.
"I was up in the air about a pole barn or a steel building. When I ran across Armstrong's website, their buildings caught my attention. They've definitely got the best quality steel building on the market so I called them up and bought a 60 x 42 building that same day. It delivered on my site complete and on time. If i ever build another shop it will definitely be an Armstrong Steel Building System. I honestly couldn't be happier and everyone who stops by says 'wow'!"
Denis G.
"I continuously speak highly of Armstrong Steel, I have purchased 2 buildings thus far, one for an addition (52'X92') and one for an office location (50'x60'). I should be ordering 2 or 3 additional buildings in 2014. The great customer service and attention to detail is what has made the experience worthwhile. And the best part is, I can just make a phone call, tell them what I want, they do all the work and I just write them a check!"
Tom N.
"I'm really enjoying retirement in my new Armstrong Steel building. I know the odds and ends of building, because I actually worked at a building supply company for 24 years. I was really impressed with how easy my Armstrong Building went up! I'm not used to that! When my brother-in-law started looking for his own steel building, I told him there was only one company to call. Thank you Armstrong for taking care of my family."
Jackie H.
"My husband loves his 'getaway' shop! With his pickup, Charger, and several other toys, we needed a protective yet enjoyable space for him. He's so handy that he built this shop with his own bare hands, sweat and, hard work. Everyone we know compliments him on how great the building looks! We're always happy to show of our Armstrong building."
Sonnie Y.
"About a year ago, the "Valley Fire" completely wiped out about 76,000 acres of land here in California. Unfortunately, we lost three wood buildings in that disaster, two houses and our business garage. We were devastated! Thankfully, we were able to get back on our feet and found a new home nearby. The new property didn't have a garage attached, and I needed a reliable space for my welding business. That's when I found Armstrong Steel Buildings. They've been taking care of us since the first day we inquired and continued to assist us throughout the entire project. We had concerns on how the building would hold up, especially after all of our losses. The people at Armstrong Steel made me feel confident in the quality and durability of the steel building we were getting. I was impressed with the warranties they were able to offer, and I'm happy to know the steel is made here in America. We are extremely satisfied with our Armstrong building and I know there isn't a better steel building company out there."
Reshelle G.
"The church building is going great so far. Thanks for all your help, Armstrong!"
Richard S.
"I bought my Armstrong building to be used as a multipurpose agricultural building in Missouri. The response from customer service at Armstrong was great, they got back to me in a timely manner and were very helpful with any questions and needs I had. The building was very easy to erect, and fit well together. I absolutely recommend Armstrong Steel!"
Richard L.
"I want to really thank Armstrong Steel for their exceptional support team from all departmental phases. I used my 3200 square foot steel Armstrong building for my new home based resale shop to sell locally and worldwide. This building is also my personal man cave garage and office. Also it's amazing to watch my customers walk through the doors and stop dead in their tracks in amazement over the building and setup. I get many comments on the size and construction of the building and how much everyone wants to build one of their own. Thank you!"
Jerry O.
"When I first started looking for a steel building, I immediately went to a few local contractors because I thought that was going to be the best option. After six or eight weeks of waiting for a quote, I gave up on them! Man, am I happy that I found your website, because when I put my request in for quote, I had someone contact me right away to get the ball rolling. My building is fantastic! Definitely the highest quality building I have seen anywhere. I truly love being able to have all my belongings in one spot and still have enough room to pursue my hobbies of woodworking and putting together small engines."
John .
"What a fantastic building! As a first time builder, Armstrong Steel made it easy to walk through the process and made sure everything was done to my specifications. The online design tools got me out of the gates fast and Armstrong's staff was helpful with the details. I love the building, it's solid with no leaks, and the many colors from which to choose helped ensure the building blended into the woody surroundings. We use the building all the time for youth sports, the kids love it because it's a safe place, and the building is always available for practice no matter what the weather! Thanks Armstrong Steel!"
Dave H.
"My garage/warehouse was erected in a week. I was looking for a nice steel building I could customize and Armstrong impressed me most. It was the first steel building I bought and would definitely purchase from Armstrong again. I'm very happy with how it turned out."
Bruce H.
"You guys are unsung heroes. Not many people know what you are doing or how important it is. Once again, my thanks to you and the rest of the staff."
Mark T.
"No matter what problems, Armstrong always came through. From conception to shipping they were always able to work things out for me. Worth every penny. Excellent customer service as the employees were always willing to help out in anyway and inquiries were answered very promptly, overall excellent customer service."
Zach R.
"As a whole, the customer service from Armstrong was great. I was always able to chat with a knowledgeable and professional staff member about my building needs throughout the whole process. The building arrived right on schedule and in pristine condition. Our company was really impressed with the quality, so we ended up buying another building. Thank you Armstrong Steel."