Armstrong Steel Customer Reviews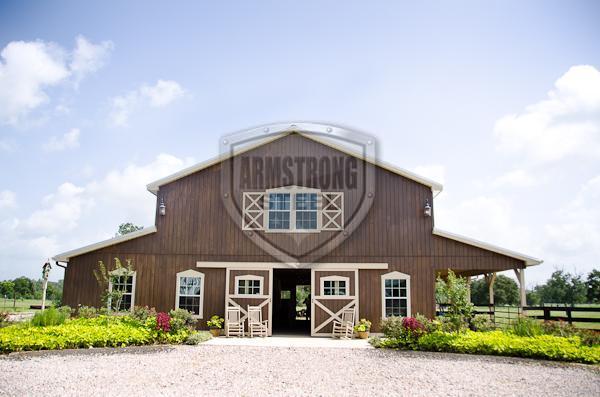 Americans trust Armstrong Steel everyday. Here are some of their stories.
William B.
"I cannot remember the last time that I received customer service like I have from Armstrong Steel. Our Armstrong Steel project manager, Jeremy, was extremely knowledgeable and assisted us at every turn. Kitty in the shipping department was on point and always had answers to our questions with respect to our scheduled delivery date. In short, everything went smoothly and you guys did everything we expected of you. I am sure that the other folks I didn't deal with directly are just as helpful - because it seems to be a part of your company's culture. We'd recommend Armstrong Steel to anyone building a manufacturing facility!"
Lightnin G.
"Quality of the building is great! Had very good customer service throughout the whole process. It got here well within the promised date. I've got plenty of uses for my building...wish I would have purchased a bigger one! HA!"
Greg S.
"My son-in-law and I can't wait to start woodworking in our shop! Armstrong Steel has been terrific, and knew exactly how to help us. I'm excited my shop is basically maintenance-free and built to last! A wood structure doesn't offer the kind of protection I need, but a steel building does! When I started this process, my project manager was very patient and worked hard to tailor the workshop to our specifications. As soon as I retire, I want to learn everything I can from my son-in-law about cutting wood. It's not just woodworking, it's my passion, and I'm excited to do it in my very own steel workshop."
Sam C.
"I needed a warm home for my tractors, cars and trucks. These are some of my most prized possessions. When I found Armstrong, you guys had exactly what I wanted - a quality building that matched the house on my property. In the end, my building is perfect! I'm going to send you photos too so you can show everyone how great my building looks!"
Ken S.
"When I envision the perfect 'hobby shop,' several requirements come to mind. The building needs to be clean and spacious. I need to be able to use it year-round and, most importantly, it must keep all of my tools and belongings safe and sound. I get all this and more with my Armstrong building. My shop looks just how I pictured it would. I didn't even have to put up drywall on the inside because it looks so clean on its own. I was extremely impressed with the quality of the building on delivery - everything came together on time and went together effortlessly. I often get compliments on my shop and I'm always sure to tell people where to go if they ever need an awesome steel building like mine."
Dean D.
"I felt that Armstrong really wanted to help me out, not just sell me something, and that meant a lot. From the moment I walked into Armstrong Steel, this place seemed like a big family and they were inviting me to be a part of it."
Ben R.
"Armstrong Steel made the entire process from start to finish, very easy. They were always quick to respond and kept me informed of what was happening with my building in terms of my drawings, the engineering schedule, fabrication, and delivery. I bought a 30 x 75 Armstrong steel building for storage. Everything was quick and simple to erect and the directions were straight forward and easy to follow."
Terrey P.
"When I started to shop around for my 72x102x20 multipurpose building, I found that Armstrong Steel had the best bang for my buck! I wanted a quality building where I'd be able to store my motor home and trailers. I also needed to make sure the building would be maintenance-free and energy efficient, so I could live in it too! Armstrong really respected my wishes and cared as much about energy conservation as I do. I love how I was able to pick my building colors as well. I've gotta say my project manager was terrific! If I'm being honest, she "held my hand" through the whole project! All in all, Armstrong Steel is a very honorable business and I can't wait to get my next building from them!"
Tony M.
"Anytime I called Armstrong, the staff was always equipped to answer any questions and help me with my project. Talk about service! I took comfort in knowing that I was able to customize my building to perfection and I knew Armstrong Steel would do it right the first time! Now, I spend so much time in my garage, practicing my hobbies like working with wood and welding. My building is absolutely amazing, and it truly has enhanced my life."
Marvin H.
"I was looking through the High Plains Journal and came across Armstrong Steel's information. After reading over what they had to of er, I knew I wanted my new barn and workshop to be an Armstrong building. My intuition was correct because Armstrong delivered a top notch steel building and provided excellent customer service. My building has only made my farm better over the years."
Reshelle G.
"The church building is going great so far. Thanks for all your help, Armstrong!"
Larry D.
"The building was simple to erect for 4 old men who had never done it before. Everything fit well together. I didn't expect such in depth instructions either. When we had questions Armstrong was very helpful. My favorite part of the building was how easy it went together. We were shopping around and found lower prices but the buildings simply didn't compare and we didn't want to wind up with a cheap building. Plus, my friend bought an Armstrong building and recommended that I check Armstrong out. I endorse your product to everyone that sees my beautiful building! I wish I had an Armstrong Steel sign to hang on the outside of the building so that everyone knows where it came from. Regardless, I get tons of compliments. Thanks guys!"
Gabe E.
"I completed my building in October, where I have made a home for my HVAC company in Phoenix, Arizona. First of all, working with Armstrong Steel through the process of getting it ordered and shipped was simple and they were very professional and helpful from the first phone conversation till the last. After completion, I am glad I went with this particular building and very satisfied in the quality. The contractor who erected the building has put many together and was very impressed with the design and how every piece fit together properly and was shipped! I added a full bathroom and back office to the shop. By adding a walk deck above both I can utilize this space with parts we stock or store. Beside the office I had a staircase built to get above to the storage area, and a lounge next to it for our kickback area. We have the office heated and cooled, shop fridge and ice machine ready to go! It was a pleasure and I am very satisfied with our Armstrong Steel building."
Michael C.
"My garage is perfect! Not only does it look exactly how I wanted it to look, but it even went together seamlessly. I have never put a steel building up before, let alone on my own. You guys weren't kidding when you said that it's easy to put up! I was really impressed with how the whole building was delivered on time as promised, with no missing pieces. Thank you Armstrong for taking the time to listen to what I wanted, and make my dream a reality."
Dawn R.
"My husband and I wanted to fulfill our dream and build a custom made steel home. I'm completely at ease because I know I chose the right building company. Armstrong Steel offered the most amazing warranties, and being able to see a ton of photos of real, finished buildings on their website, even other homes, made the decision that much easier. I can't forget about the awesome customer service through the entire process too. You guys made it all happen, and I'm grateful!"
Les L.
"We looked for contractors locally to put up our Armstrong Steel Building and couldn't find fair pricing or dates set in stone. We decided to let Armstrong handle everything for us, they were competitively priced and got our job going immediately."
Karla M.
"The quality of my Armstrong Building was excellent. The builder I used had not put up a pre-cut building before. He said it went together well. The few questions he had were answered in a timely manner. Armstrong's project managers worked him through the areas that were in question. I would use Armstrong Steel again. I recommend them for any steel building needs."
Jacob R.
"We're in Princeton, West Virginia and we bought our church from Armstrong Steel. So far, so good. It's erected and looks great on the outside. We're still working on the interior finish out but our experience with your company was seamless, no regrets."
Jerald L.
"Since I'm nearing retirement, I need my own personal workshop space to do what I love most - restore old cars! I was thinking about getting a basic pole barn and a good friend of mine asked me why not look into a metal building? I couldn't think of a better idea. I started looking around at the different building companies and Armstrong fit me BEST! The price was right, I was sold on the quality and everyone I've had the chance to work with has been wonderful! I'm looking forward to spending the hours in my dream shop."
Chris G.
"I'll be the first to admit I'm a perfectionist, and this building is the best building I have ever seen! The quality is simply amazing, and my family uses it for so many different applications. I'm able to store my supplies for my rental business, have room for my garden tools and most importantly, I was able to put a small basketball court on one end for my son! Thank you Armstrong for being so straightforward and yet very professional throughout the process of getting my building!"