Armstrong Steel Customer Reviews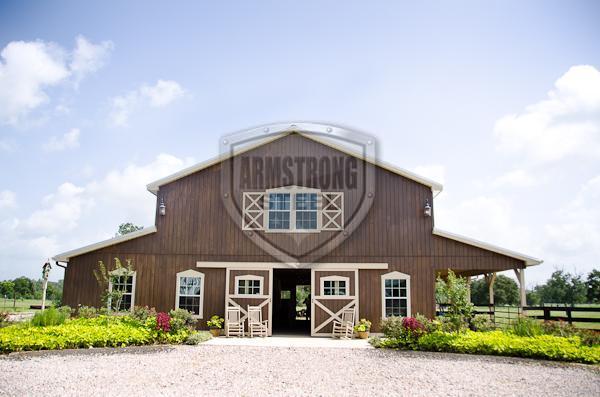 Americans trust Armstrong Steel everyday. Here are some of their stories.
Alan P.
"I've owned my own grocery store since 1998. When it was time to expand and add a new pharmacy section on to the grocery store, I wanted a quality building addition. I knew I had to get a durable, wide open structure, and steel was the way to go. The 24x40x12 addition went up quickly without any trouble. This add-on looks amazing next to the grocery store! My business is showing no signs of slowing down, thanks to Armstrong Steel."
Shane M.
"Every time I've shown up to Armstrong Steel's Headquarters in the Denver Tech Center to discuss a building project with the project managers they are accommodating, efficient, priced right and they take care of our needs."
Walt L.
"I was up in the air about a pole barn or a steel building. When I ran across Armstrong's website, their buildings caught my attention. They've definitely got the best quality steel building on the market so I called them up and bought a 60 x 42 building that same day. It delivered on my site complete and on time. If i ever build another shop it will definitely be an Armstrong Steel Building System. I honestly couldn't be happier and everyone who stops by says 'wow'!"
Jerry B.
"I chose Armstrong Steel for my workshop! I added bathrooms and insulation to my building with ease. During my search for a steel building, Armstrong Steel was quick to respond and I was able to speak with a live person who was courteous, unlike General Steel & United Steel. The cost of the building was great and the building was easy to erect! I now have a great investment that will be around for a long time."
Kim W.
"I absolutely would recommend Armstrong Steel to anyone! Everything was wonderful, and all of my technical questions were always answered quickly. You wouldn't believe how easy it was to erect the building. It only took myself and two other guys to get the building up. It was that easy! All the holes and building parts lined up perfectly. I was really impressed with the quality too. Thank you Armstrong!"
Chet K.
"I really enjoyed Armstrong Steel's chat feature. I was able to make contact quickly, and get a quote ASAP. That was very important to me. Also, Armstrong's customer service is outstanding! Anytime I needed to speak to someone about my building project, they were always eager to answer my questions."
Frank M.
"I do a lot of city work and see metal buildings all the time. I've always wanted my own man cave to store all of my toys and tools. After endless hours on the internet looking at all of the different building sites and types of buildings available, I came across Armstrong Steel's web page and never looked any further. The pictures of some of the buildings they've already completed were phenomenal, and to top that off when I called the first voice I heard sounds like Sam Elliot! I knew I wanted a building from this company from that point on. Everyone on the Armstrong Steel team was incredibly helpful from beginning to end. Now I don't have to look at photos anymore, I have my own phenomenal building!"
Donnie D.
"Thanks for your help! You guys just keep coming through for us and we want to give you and Armstrong a public pat on the back. It appears the contractor will be staging equipment to start work in just a few days. We are all excited that in 60 days our church will be up and we can begin on the interior. I will be sending photos as we go. Thanks again!"
Shannon D.
"I bought a workshop from Armstrong Steel. I hired a contractor to erect it and he loved how well constructed the building was. It was easy to put together and had simple and detailed instructions. Armstrong Steel was reasonably priced and very accommodating to my needs. Everyone was great to work with and helpful through this process."
Ginny V.
"We built our Armstrong Steel building in Black Forest, Colorado. We lost our home in the Black Forest fire June 11, 2013. We not only lost our home but every out building, including the barn. We did manage to get the horses, cattle and dogs out but had to leave the sheep. Somehow all 12 sheep lived and made it through the fire. Some burnt feet and singed wool but for the most part they were not hurt bad considering what they had been through. We basically made it out with what we had on our backs. We not only had to rebuild our home but I needed a barn for our animals. I chose Armstrong Steel because they had the best quality for the price and I had looked at many other steel buildings and did not find that they suited my ideas for replacing our barn. I am very happy with our Armstrong Steel building and look forward to many years of use with our new home and barn."
Jesse W.
"After doing my research and reading through the reviews on steel building companies online, I found Armstrong Steel, and instantly knew it was the right building company for me. Armstrong Steel had everything I wanted to complete my custom welding shop. Thank you Armstrong Steel!"
John K.
"I love my new steel garage so much that I'm thinking about getting another one! It's nice having a safe space for storage and still have enough room for my son to be able to work on his cars. I feel like we spend more time in the garage than we do in the house! Armstrong Steel really exceeded my expectations when it came to the purchase process and delivery. I couldn't have asked for a better experience."
Jeff D.
"When I was shopping around for a 60' x 120' x 16' building, General Steel wound up acting like every company in the industry couldn't be trusted. When I told them I was buying an Armstrong building, they insisted on putting me on the telephone with a Vice President who proceeded to tell me that Armstrong Steel would steal my deposit, not deliver my building, and wind up penalizing me with price increases. I'm glad I didn't let them scare me out of choosing Armstrong Steel. None of these things wound up happening. I decided to go with Armstrong Steel to buy my 60' x 120' x 16' Armstrong building with galvanized secondary framing, interior liner panel, 6" roof and wall insulation, (2) 24' x 16' overhead doors, (1) 16' x 14' overhead door, (3) walk doors, and (8) 3' x 3' windows. Guess what showed up? Exactly that ...and on the date they said it would. I am very pleased with Armstrong Steel and would recommend them to anyone!"
Bruce H.
"You guys are unsung heroes. Not many people know what you are doing or how important it is. Once again, my thanks to you and the rest of the staff."
Rui D.
"I love the quality of my building. I couldn't find a better building for the price Armstrong came in at and, because of that, I've referred many friends to Armstrong for their building needs. I erected the building myself and it went up in very little time and without havoc. I love my personal shop."
Dan P.
"Last year, there was a bad hail storm in Colorado and a lot of our belongings got completely ruined. We started looking for a new building to store our toys like our boat and 4-wheelers. We knew we wanted a steel building eventually, but not for the next 5 to 10 years. After the storm, our timeline sped up significantly. We called several steel building companies, even one that we've done business with in the past, and not one of them would call us back. Then we contacted Armstrong Steel. Everyone has been extremely easy to work with and the staff is always there to answer our questions. I can really say my overall experience has been great with Armstrong. I feel at ease with the process, and I can't wait to get our storage building!"
Chuck C.
"I must say I'm extremely impressed with how Armstrong Steel has been nothing but excellent. I was fascinated with the educational resources on the website. They really helped me make an informed decision. Couple that with the top notch customer service, and you've got a winning combination. I'd rate them 10's across the board. I would absolutely recommend Armstrong to anyone!"
Scott E.
"I love working on cars and small engines, so much so that people from all over town actually come to visit me and ask if I'll work on their engines. I've become the unofficial town mechanic! Of course, what's a mechanic without a place to work? I called Armstrong and got a workshop even a professional 'grease monkey' would appreciate. I was able to put a car lift in the building to broaden my abilities, too. Everyone always compliments me on how the garage is so spacious. I absolutely love it."
Greg G.
"I really appreciate Armstrong going out their way to educate me and offer assistance in many areas - concrete drawings, erector quotes/offers, and CAD drawings...I hope all is well and really appreciate all you have done to create/deliver the building we always wanted. God Bless!"
Noah B.
"When I bought my building, I was afraid that it would be too big of a project to handle but Armstrong made it easy. I needed a new barn, and while comparing my options, I discovered that an Armstrong building was equivalent in pricing to other wooden pole barns. It was so easy to erect that it only took four friends and I, one weekend. When friends see my building they love how it looks, they would rather stay in the barn than in the house! Highly recommended."