Armstrong Steel Customer Reviews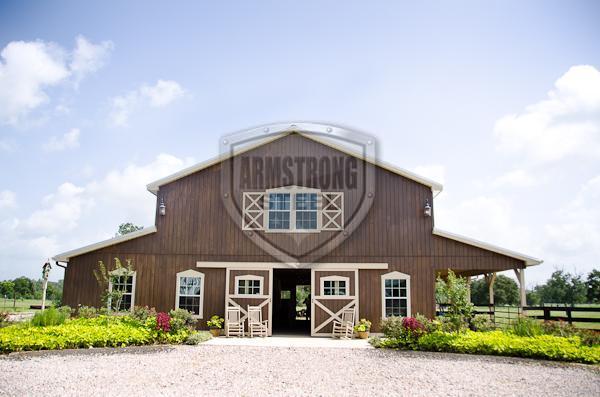 Americans trust Armstrong Steel everyday. Here are some of their stories.
Tony H.
"Armstrong Steel made the buying process simple. All I had to do was fill out an inquiry online. A representative called me and took the time to learn about my project. I look forward to enjoying many years in my new workshop, and I'm especially looking forward to spending my summer days in it."
Frank J.
"My Armstrong Steel building looks great! It went up without a problem and is currently standing strong on our property. I would definitely recommend Armstrong to anyone I know, not only because it's the best quality building in the industry, but because of the excellent customer service. I truly feel like I'm a part of the Armstrong family."
Shane M.
"Every time I've shown up to Armstrong Steel's Headquarters in the Denver Tech Center to discuss a building project with the project managers they are accommodating, efficient, priced right and they take care of our needs."
Noah B.
"When I bought my building, I was afraid that it would be too big of a project to handle but Armstrong made it easy. I needed a new barn, and while comparing my options, I discovered that an Armstrong building was equivalent in pricing to other wooden pole barns. It was so easy to erect that it only took four friends and I, one weekend. When friends see my building they love how it looks, they would rather stay in the barn than in the house! Highly recommended."
Leo D.
"My grandfather, father and I have been in the design-build business for over a century. I just bought my first Armstrong Building yesterday after erecting one for a customer of ours on Martha's Vineyard. We do everything from custom homes to metal buildings and have worked with other steel buildings in the past but after my experience erecting the Armstrong Building, it was a no brainer. It's obvious from the detail and precision of every part that they care about the experience even after the building is delivered. I love that Armstrong Steel manages their detailing & engineering in house rather than overseas too. I was able to call and speak directly with the ones designing the building when I had questions. As a civil engineer myself, trust me when I say, that makes all the difference!"
Doug B.
"I've worked with other steel building companies in the past, but when I retired and wanted a garage building for myself, I was torn between Alliance Steel and Armstrong Steel. Both companies were good choices, but Armstrong won my business because of the overall quality and simplicity. I gave them my special, unique design and Armstrong made it come to life! They even made sure to beef up my garage so it would withstand the crazy amounts of snow we get in Colorado. I would definitely recommend Armstrong Steel to anyone! My family is going to use this garage for generations to come."
Dan H.
"I spent my fair share of time on different building company websites. I was searching for the classic gambrel barn look, but I knew I didn't want to build with wood. It was obvious I needed a quality steel building. Armstrong Steel was the only company I found that could of offer a variety of styles for steel buildings, and they could make the gambrel roof style I needed. My 30x40x14 Armstrong Steel building is so versatile. Being able to work on all sorts of different cars with a hoist, have space for a 15x10 indoor woodworking shop and enough room for a second floor is a game changer."
Barry M.
"I really loved buying a building from Armstrong Steel. Everyone I worked with made the project as painless as possible. Their entire team was extremely kind and were very cultured. I knew I was dealing with the experts. Now I've got a 30 x 40 storage building right on the lake. I'm even looking to start a new project and I wouldn't trust my project to anyone other than Armstrong Steel."
Donnie D.
"Thanks for your help! You guys just keep coming through for us and we want to give you and Armstrong a public pat on the back. It appears the contractor will be staging equipment to start work in just a few days. We are all excited that in 60 days our church will be up and we can begin on the interior. I will be sending photos as we go. Thanks again!"
William H.
"We purchased 7 steel buildings from Armstrong Steel. I had shopped around and Armstrong really eased any fear I had. This was a big project to take on for my company and I wanted to do it well. Everything went smoothly and as planned, the Armstrong staff was very helpful! Cost was an issue for this project and Armstrong did a great job of helping me on a budget. My biggest concern when taking delivery was that not all pieces for my 7 buildings would be there, but not one piece was missing! The plant is very satisfied with the project. Everything showed up on time as planned. We are planning on building more steel buildings, we will definitely come back to Armstrong for our future projects."
Ron S.
"We chose Armstrong Steel for this project to maximize the interior open spans and to provide greater earthquake resistance and the final result made it well worth it. The finished building is exceptionally rigid and quiet inside. We are looking forward to enjoying our new garage for many years to come."
Adam T.
"Armstrong Steel has been great! I shopped around for my building and found Armstrong had the best building for a price I couldn't beat anywhere. After buying my truck and putting a lift on it, I knew it was time to get the best building for it and my whole car collection. I'm thinking of buying a boat soon, and I'll have the room to store that too!"
Ron D.
"Our business, Sibley Energy, has grown so much over the years, and we needed to expand into a larger warehouse. I started to search online for the perfect office space for our business needs. I found Armstrong Steel's website and the search stopped right there. I couldn't get over the guy's voice on the answering machine when you call in! It's so neat, and sounds like Sam Elliot. Plus, I felt like my options were endless and I was able to fully customize our new office building. We're so glad we decided to buy a steel building. The engineering process was pretty painless too. Armstrong's in-house team really made it easy. When the building delivered, all the parts arrived on time and the building went up exactly how I dreamed it would. All of us here at Sibley Energy love our Armstrong Steel warehouse!"
Wes W.
"People look at my building all the time and ask where I got it from because it's right by the lake. Got everything I was promised and then some. I liked that the building designers work at Armstrong and not overseas in case I had any questions. Building is up and looks great! Now I can store all of my boats, 4- wheelers and trailers in the building to keep them covered and protected from the snow. I'm 75 years old and if I can do this, anyone can! God Bless."
Richard N.
"I started by seeking quotes for a 60' x 60' x 14' building. Armstrong Steel appeared to be the most professional. Their quote was simple and easy to analyze. The contractor that I had pour the pad is currently in the process of erecting the building and has done several steel buildings within this community. He has been very impressed with the quality of Armstrong Steel. He and I would recommend Armstrong Steel if you are considering a steel building for any of your needs."
Don S.
"I'd like to commend Kitty on her help on my steel building she was on the spot on every detail of the building she was honest and accurate on everything that she promised, she was totally honest and prompt. Armstrong Steel makes one hell of a building. On a scale of 1-10, I'd rate my experience a 12. I was very satisfied."
Jim F.
"I started the buying process in July for a 40'x60' building with James and Tim. Before making my decision to buy from Armstrong, I was on the phone with James asking more questions than a three year old on his first car ride. He answered everything and sent plenty of web links to provide extra info. He did a great job helping out with pricing alternatives for my needs too. I can buy 26-gauge steel a lot of places, but the value and customer support he gave me helped make my decision to get the building from Armstrong. As we got through that phase, he worked with Tim to get all of the "whereas and wherefore" legalese completed. Both guys were patient, congenial and great to work with. I'm looking forward to getting my building!"
Gary H.
"I know what I'm going to be doing in my retirement, and that's a load of my back. I designed my first Armstrong Building just the way I wanted it. I'm almost through with finishing out the interior so I can rent it out! If I'm successful, I'll keep buying Armstrong Steel buildings and expand to the rest of Texas! The "Lone Star State" needs more Armstrong Buildings!"
Jeff M.
"My livestock feed and supply business grew out of our first warehouse and it really just wasn't holding up anymore. We needed a building where our supplies would be dry and safe. I was pleased that there was no smoke and mirrors with Armstrong Steel. My project was completely straightforward, but Armstrong still made sure we got the best building possible. The building was designed perfectly and delivered on time. Every part fit together as if it were a new children's puzzle set. I'll be sure to continue to recommend Armstrong Steel to everyone I know."
Greg G.
"We went into buying our steel building knowing very little and Armstrong Steel helped in answering all our questions and gave us the best deal after researching many steel companies - especially when considering the quality of their materials. Even when the building had minor imperfections (due to shipping/weather) - they went out of their way to ship replacement parts and ensure we were completely satisfied with the entire building."