Armstrong Steel Customer Reviews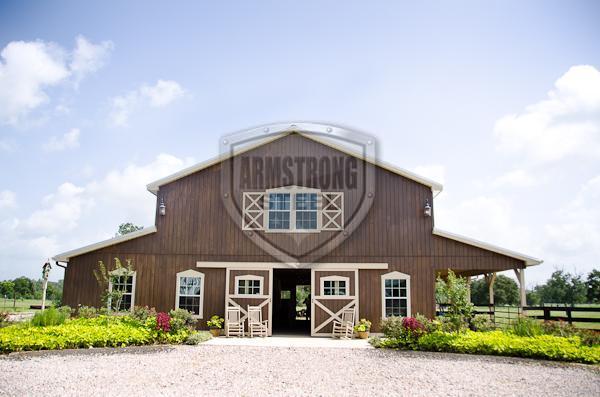 Americans trust Armstrong Steel everyday. Here are some of their stories.
Jerry Z.
"This was my first time buying a steel building and I'm retired. I went with Armstrong for my garage and woodworking shop because I needed a building fast and Armstrong was the easiest to work with. I called 3-4 other companies and didn't like the way they bad mouthed the competition. My favorite thing about my building is how good it looks and I'm extremely happy with the experience."
Ken H.
"I'm a general contractor in Washington state. We've purchased two buildings from Armstrong Steel. The accuracy, quality and finish of the buildings are fantastic and they went up flawlessly. We received great buildings for a great value and our customer is impressed."
Kathy M.
"I'm a builder, and I love putting up steel buildings from Armstrong. I recently completed a job for a high school here in town. The baseball team uses the building as its indoor batting cage. I was really impressed that the colors even match the other sports buildings at the school. I went with an Armstrong Steel building because it is a REAL building that will last, not some tin structure you just throw together. Thanks a bunch Armstrong, and the team sends their thanks as well."
Ron W.
"This was my first time buying a steel building, and it was painfully obvious I needed one. I was in dire need of some extra space for all my tools, lawn mowers and all of the other little trinkets I have hanging around. I love my Armstrong Steel garage, from the inside out! The building went so up easily and has no leaks, strong walls and a sturdy roof. Needless to say, I'm impressed. I'm thankful we haven't had a tornado in years, but if we do, I'm confident my building will stand up strong, unlike the stick built buildings around me. Thank you Armstrong!"
Gary M.
"I have a house and several acres of land here in Gurley, Alabama, but I didn't have the proper secure space to fix up my cars. I also have a lot of farm equipment that needed a dry and safe storage area. I'm a farm boy with plenty of steel building experience, and that's the reason I decided to go with Armstrong. I knew I could trust them because they're the manufacturer! Getting my building was simple. It was well within my budget, plus I got it delivered on time, and most important exactly how I wanted it. I'm working on completing the inside with granite marble flooring right now, and I can't wait to show it off. It's the perfect hobby shop."
Rory C.
"Our building looks great! It was so easy to erect and I love the stability and overall quality of my Armstrong Building. My builder looked inside after completion and asked, 'Where did you get this building?!'. You guys hit a home run with your product. Thanks Armstrong!"
Keith D.
"I bought my workshop from Armstrong. I had shopped around for steel buildings but nothing compared to Armstrong. The quality of the building for a great price was unbeatable. It was a simple process to go through and everything was delivered on time. I'd recommend Armstrong Steel to anyone."
Todd S.
"After receiving my building package, I started out to assemble my building. Having never done metal buildings before, I was sure it would be slow and cumbersome as I figured it out. Armstrong's Building Package was amazingly easy to decipher and lay out. Every piece fit perfectly and flawlessly. It was really amazing the precise way things fitted together. Paying close attention to a very square foundation made it very easy. Since assembly, it has been everything I had hoped for. It's a paradise for me, a guy at home in a shop. All my friends say it is the perfect shop, and how they would love to have one just like it. I only had to contact Armstrong Steel a few times about questions and I was happy that with them all, my problems were their problems and help was a priority and I felt like I was their only customer. You judge a company, not by if they make a mistake, because companies are made up and operated by people, so mistakes can happen, but it's the way a company "handles" those issues when they happen that is a true measure. Armstrong Steel handled everything from start to finish with excellent support and patience. I'm already looking at expanding the building, and I will definitely be giving Armstrong Steel the call. I'm a happy, grateful and proud Armstrong Steel customer!"
Josh G.
"I would recommend Armstrong Steel to anyone! In fact I was just telling my co-worker to call Armstrong for his building just the other day. My whole experience was phenomenal, from customer service to the quality of building. It's truly the lakeside building of my dreams! I really enjoyed having a support team through the entire project. Everyone made the process smooth and always made sure that I was getting the building I needed and wanted. It's going to be perfect when the building is fully completed on the inside, too."
David E.
"My Armstrong Steel shop is truly amazing. I couldn't ask for a better quality building. I love spending endless hours working on hot rods and rustic woodworking projects. Everyone I know compliments me on my workshop, and I'm always proud to show it off!"
Scott L.
"My building fit together great and was fairly easy to put up myself. Everything is plum and square. Whenever I had questions during the assembly, my questions were answered right away. I will be choosing Armstrong again as I'm considering another structure down the road. Excellent customer service, guys!"
Dr. Jorge D.
"Just wanted to let you know that the building has been delivered. It was great doing business with Armstrong. I really appreciate how Armstrong worked with me when I ran into some hick-ups in the process. You folks are great, extremely willing to work with your customers and I would recommend you to anyone thinking of purchasing a steel building. As soon as I finish the project, I will be sending you some photos of the steps that I went through in erecting my building. Again, thank you and all the folks at Armstrong for a great experience with this project."
Nasser Z.
"I'm very happy I decided to purchase an Armstrong steel building. I am very happy with the quality and in fact I receive many compliments from all customers who see it for the first time. My crew got my auto repair shop up quickly and with no problems. Thank you Armstrong for your great product and help in designing my building."
David M.
"I'd definitely recommend Armstrong Steel to anyone! I honestly couldn't believe how easy it was to purchase such a high quality steel building. My building is the perfect workshop. I keep all my tractors and other gardening tools inside year round."
Charlie H.
"Armstrong did a good job! Many thanks to Armstrong Steel and their staff."
Miguel B.
"I've been in the retail business since the 90's, and due to my company's success, I started to outgrow my current building. I really needed a warehouse where I could store all my extra inventory. I made the call to Armstrong Steel, and from the get-go, they took care of me. Not only did I receive A+ customer service, they worked within my budget and the delivery was on time. I'm building the warehouse now, and anytime I call and have a question about the plans or the building itself, everyone at Armstrong is always eager to help. I'm excited to introduce the rest of the Odessa area to Armstrong Steel!"
Bill P.
"Just wanted to thank you for all your help and follow-through with my building plans. Got the permit and foundation work has started! Thank you again!"
Allan M.
"I've bought three previous steel buildings and I will say my Armstrong building surpassed each and every one of them. The detail that went into fabricating it was unlike anything i've ever seen. It was so easy, fit together perfectly and the trim package was super sharp. I use my building for car storage and this year we got 120 inches of snow here in Wisconsin. A lot of my neighbors roofs collapsed and mine didn't. Honestly, I wasn't even concerned about it. I LOVE my building. I've got heated floors and will be adding insulation this summer. My next building will most certainly be an Armstrong building."
Cornerstone Ranch.
"Thank you, Armstrong Steel, for making our dreams of a Texas themed event center come to life! Now when people in Bushland, Texas celebrate a wedding, reception, reunion or event, they'll be having it in the great building Armstrong Steel helped make happen here at Cornerstone Ranch."
Joe A.
"I am extremely satisfied with my garage, so much that I am going to come to Armstrong Steel for the next building to start my flea market business. My first building is everything I wanted and more in a garage. Nobody could beat Armstrong's qualities or warranties. It was a no brainer to buy my building from them. Everything about my building fit perfectly together and was fast and easily put up. Armstrong really is the way to go!"