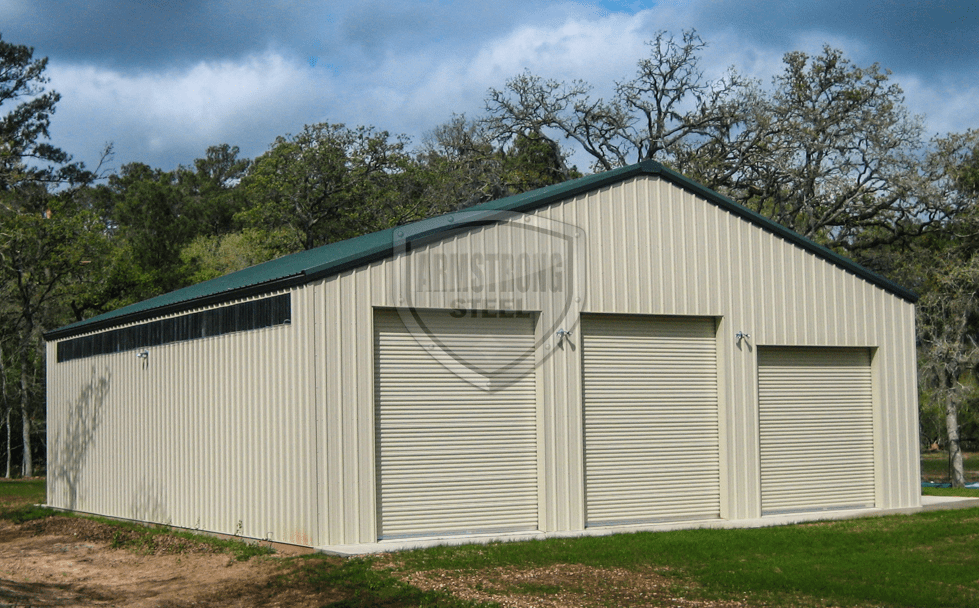 "I've never had anyone look at it and not like it!"
A Steel Building Solution to the Agricultural "Space Debate"
"Do I need more space?"
It might be a query for your inner monologue, or an innocent question voiced aloud to your husband or wife, but if the answer is 'yes,' you've taken the first step towards a steel building project.
Like many builders, Jim F. of Houston, TX began his search for a metal building after confirmation of his own "space debate" struggle. With all sorts of agricultural equipment, and no place to put it, his hunt for a durable, versatile and cost-effective storage solution brought him to Armstrong Steel.
"I was planning on building a weld-up from scratch barn, but my contractor had put up [an Armstrong Steel building] for his sister, and I looked at it, and I was impressed with the strength," said Jim F.
After seeing the quality and craftsmanship of a bolt-together Armstrong building firsthand, Jim abandoned his original plan of a weld-up structure and settled on a 50 x 60 steel building.
"I chose Armstrong over bids from two very reputable local firms for several reasons and was not disappointed. Armstrong's bid was very competitive with the other bids, but I was most impressed with the overall quality of the materials to be provided, the attention to detail by Armstrong engineers, and the design help provided."
Armstrong Steel buildings are engineered in-house, not overseas, by a dedicated team with over 150 years combined detailing experience. Even our executives jump into projects from time to time, to ensure every customer gets exactly what they need.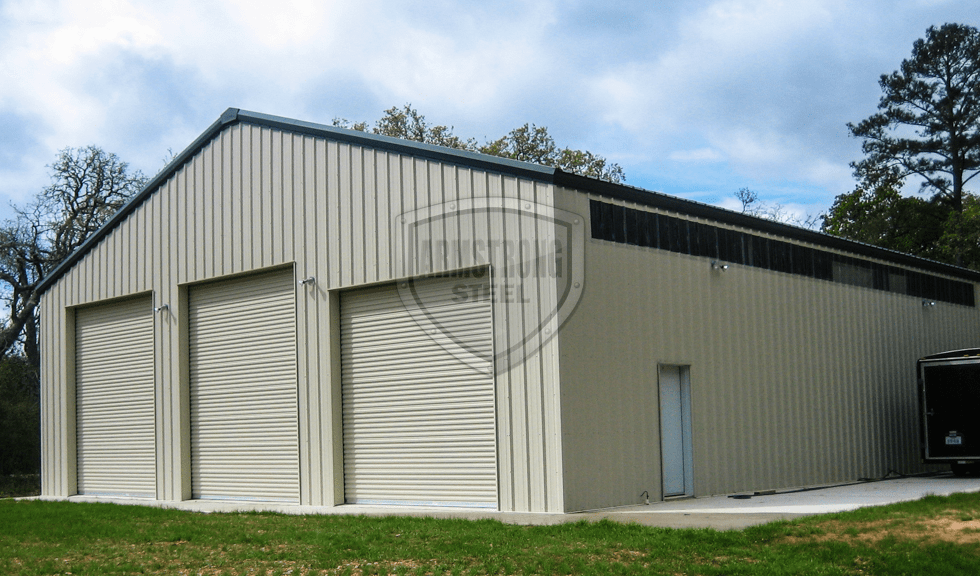 "I remember working very closely with Jim throughout the entirety of his project," said Ethan Chumley, Founder and CEO of Armstrong Steel. "Jim is one of my favorite types of clients – extremely hands on. When he had questions about the precise details of his building, I was happy to jump on the phone with him and offer assistance. Customer service is at the heart of everything we do because without our customers, all of our achievement would not be possible."
Armstrong Steel has its own manufacturing facility, and each project is streamlined and benefits from a quality-controlled environment. In a matter of months, Jim had his building on site.
"We've completed construction of the equipment barn ordered from Armstrong. The Armstrong staff and engineers were very helpful throughout the entire process of the design and delivery of the building. The building was delivered on schedule, the components and parts were all present, all the predrilled bolt holes were in the correct place, and everything fit per detailed plans provided by Armstrong," said Jim.
Steel buildings often go up in less than half the time of conventional construction. A crew of four men erected Jim's 3,000 square foot building (less rollup doors) in six days.
"I am very happy with my equipment barn. People who see the barn comment on the quality and appearance, and ask me, 'who built your barn?' I would not hesitate to work with Armstrong Steel on another building, and I am comfortable recommending Armstrong Steel to others for their metal building needs," exclaimed Jim.
"We ask our customers to trust Armstrong Steel quality every day," said Ethan Chumley, Founder and CEO of Armstrong Steel. "That fact isn't lost on me. Builders all over the country, like Jim, make the choice to begin a project with us every day, and it's our job to deliver a building they can be proud of and live in for generations."
"I'm very happy," laughed Jim. "I've never had anyone look at it and not like it!"
First time builders, small business owners, church leaders and their families agree: Armstrong Steel delivers an outstanding building and customer experience.