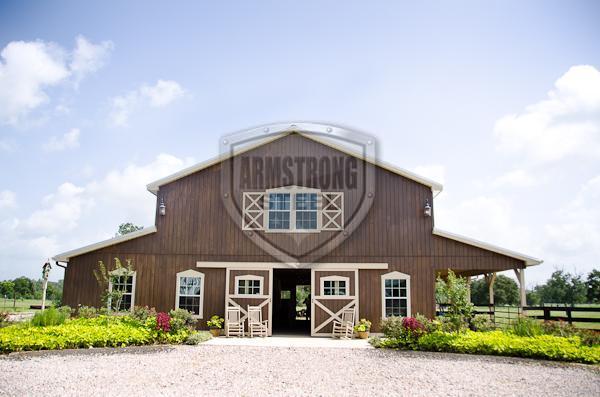 "When a customer comes to us this prepared, it drastically reduces our design and delivery time, it also reduces the cost"
Armstrong Steel delivers a Home Sweet Barn
There is nothing we enjoy more at Armstrong Steel than providing customized solutions for each of our customers. Sometimes it is a backyard shed, other times it is a gigantic commercial building, and sometimes, it's a barndominium.
If you aren't from a place like Plainview, Texas, you may not know what a barndominium is. We do, thanks in part to a project we completed for Karla M. in 2012.
Karla isn't your typical Armstrong Steel customer. She came to us knowing exactly what she wanted. Karla wanted a barn. Karla wanted a guest condo. Erecting two structures can be expensive. There are two sets of permits you need to get, there are two separate foundations to pour, two separate electrical and plumbing systems to install. You also pay additional taxes on two structures. There is maintenance to two buildings.
Leave it to the pragmatic sensibilities of a rural Texan to find the perfect solution. Combine the structures into one larger structure and guests and beloved animals can find a cozy common ground under one roof without the additional headaches of maintaining two structures. The barndominium can trace its roots to hunting, popular in Texas. A storage or livestock space with comfortable living quarters seems very logical. To Karla, the key word here is 'comfortable.'
As beautiful as a horse may be, the truth is, they don't smell particularly fresh and housing them in close proximity to a living quarter presented a problem. The solution? Separate the equestrian and human residence with a covered breezeway which would force the often stagnant and hot Plainview air to circulate between the two.
"Karla knew exactly what she wanted; she knew how big she wanted the structure to be; she knew the contractor she wanted to hire; she had the floor plan and even the windows and doors mapped out; she knew how much she wanted to spend," said Eric Beavers, Armstrong COO who worked as the project manager on Karla's project.
"When a customer comes to us this prepared, it drastically reduces our design and delivery time, it also reduces the cost."
Eric worked closely with Karla's contractor to gather specific information on construction requirements. Together with the client, the Armstrong Steel detailers engineered a 2400 square foot structure that boasted about 1200 square feet of living space on two levels.
The stable and the tack room all sat under the same roof and because the structure was to include human living quarters, Armstrong's engineers modified the structural requirements to handle to increased loads and safety specs so residential finishes could be added.
"Armstrong is very capable of detailing and engineering structures for customers who have no clue what they want. We specialize in that, in fact," mentions Beavers, "but when a customer comes to us with all the ducks in a row, we are able to maximize efficiencies, offer additional options, and really accelerate our service – while keeping costs low."
And while barndominiums are certainly not Armstrong Steel's usual structure, the convenience of offering complete in-house detailing and engineering services means that Armstrong Steel was able to, once again, meet our customer half way and deliver a unique, one-of-a-kind structure that satisfied everyone; including some very lucky horses in Plainview, Texas.