Business is booming at events center designed by Armstrong Steel
The Place to Party in the Texas Panhandle
Being an entrepreneur isn't always easy. Growing a successful business requires some risk taking, the right timing, lots of hard work and of course, a little luck. Already cemented in their careers as a successful firefighter and nurse, respectively, Jonathan and Aly T. of Amarillo, TX just had an entrepreneurial itch that needed scratching. The itch was based off something we all do quite often – get together with friends and family.
"We've always been the one to host parties at our house. We have a large family – around 50-60 first cousins between my husband and I, so yes we have a big family – and we just started thinking we should just build a small place ourselves," said Aly.
Hosting a party and running a full-blown professional events center is completely different. But the pull of the business world, coupled with the encouragement from family, finally pushed Jonathan and Aly over the edge. The concept for Cornerstone Ranch Events Center was officially born.
"We said small at first. Then we kept thinking bigger and bigger. This is Texas weather, so you better build it big enough to pull everything inside at a moment's notice," said Jonathan.
Forward thinking? Check. A must for any successful small business.
The locals of the Lone Star State will tell you, even casually, that 'Everything is bigger in Texas.' So this barn obviously had to fit the bill. Even competitors knew Armstrong Steel was the right place to turn for the highest quality building in the industry.
"We were actually referred by another building supplier because they weren't capable of doing the engineering on the project," said Jonathan.
Not only could Armstrong's in-house detailing and drafting team handle the engineering on this particular project, but also we took it a step further. The building had to be completely custom-made by a manufacturer. This couldn't be a cookie-cutter project. In fact, no Armstrong Building fits a particular mold.
"I felt like Armstrong Steel was a great company. They processed our request in a timely manner. They were able to match the design of the building we wanted. Other companies could get close to what we wanted, but not fully provide every detail. With Armstrong Steel, we could fully customize the building to our exact specifications. Armstrong didn't make us pick a generic template. We got precisely what we wanted."
"We were especially able to help them with all aspects of the delivery," said Kitty Uhle, Director of Client Services. "Even if there are issues, I'm especially proud that we can jump right on the phone with our customer and assist them quickly. That's one of the many perks of owning and operating a manufacturing facility."
Judge A Book By Its Cover
The function and design of the structure is one of the most important factors in any steel building project. But this building had to 'wow' its customers. That means every southern bride, every Texas gentleman, every prom, expo and benefit had to be sold, partly, on the appearance of the building.
"Since this was a wedding venue and events center, looks are everything. People don't want to get married in a regular square barn. They want to get married in something that looks nice and pretty on the outside. Cosmetics were very important to us."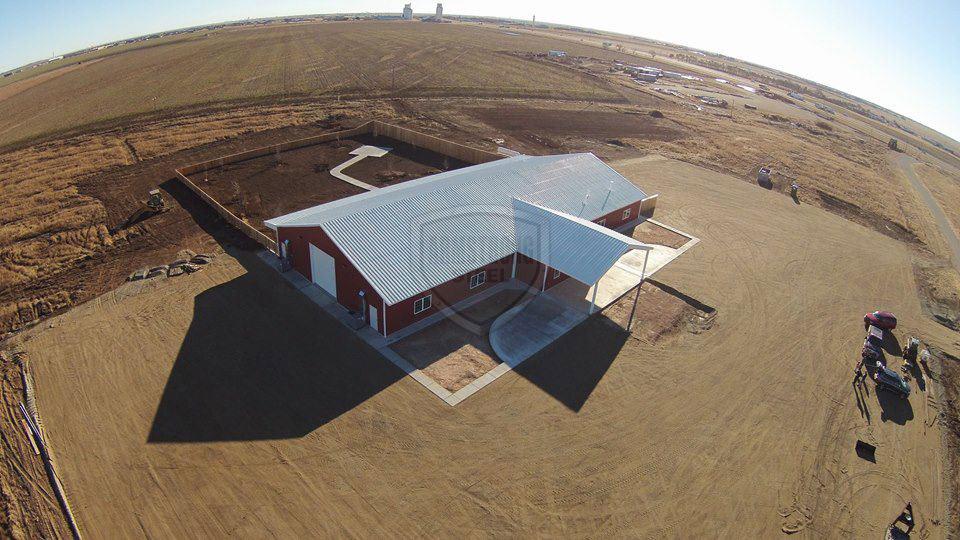 Any company stirred by the entrepreneurial spirit needs to identify how to enter a market and succeed by providing what no other business can. Cornerstone Ranch chose to go with a 60 x 140 building, making them one of, if not the biggest events center in the entire Texas panhandle.
"Most event centers in the greater Amarillo area are only capable of accommodating 300 people inside and out. We're able to handle upwards of 500 on the inside only, with more space in an acre of fenced in land on the outside," said Jonathan.
The decision to go bigger ultimately was the right choice.
"We're fully booked for all of this calendar year, and we're starting to schedule and book events for next year already," said Aly.
"We're having family time while everyone is having their parties. We're hanging out and having that weekend quality time. It's not just my husband and I either. It's my parents and my brothers. It's a true family business and helped us bond more as a family, and we have fun doing it," said Aly.
In Cornerstone's case, it's red walls. It's a white roof. Look deeper. It's the background of your wedding photos. It's immortalized as a memory for all eternity. It's the best day of your life. It's more than a building. It's a commemoration of a celebration, and it has to be perfect. It's what people expect at Cornerstone Ranch, and it's what builders across the country have come to expect from Armstrong Steel.