Equestrian Steel Buildings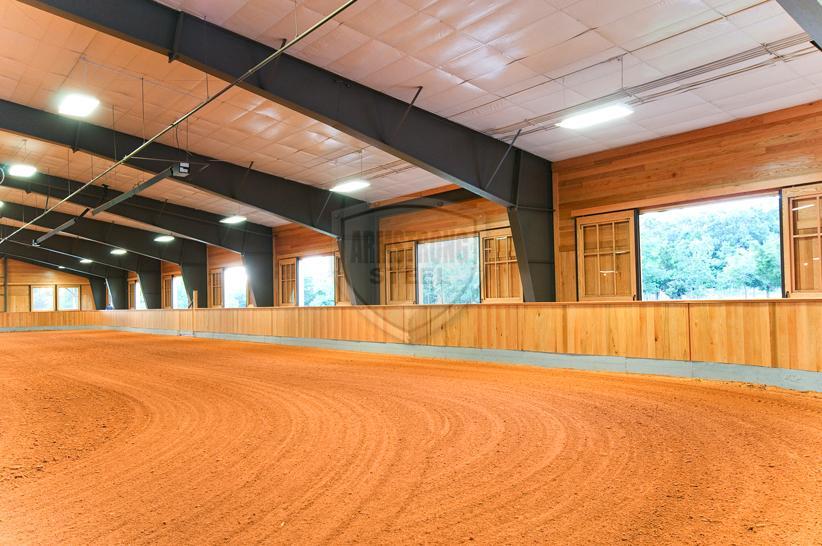 Metal Horse Barns & Stables
If you have horses, your main priority while constructing is to keep them safe in their equestrian building, riding arena, and shelter. You want to have a stylish and durable equestrian. Wooden barns do not last long and carry their own safety risks. You can consider using steel to construct your equestrian barn as it is durable, strong, rot and pest resistant, and economical.
For all your steel needs, you can go to Armstrong Steel that is ideal for commercial, residential, industrial, and agricultural constructions.
Why Choose Armstrong Steel
Armstrong Steel is your best choice for your equestrian facility since you will get custom-made designs for your stable, indoor riding arena, horse shelter and anything else you need for you and your horses. We have the best designers who will listen to your dreams and our engineers will turn them into reality. Feel free to contact us and get your equestrian project started.
Price Your Building Online →
What to Look Out for While Constructing Equestrian Building
When constructing an equestrian building, you need to take the design and safety of your horses into consideration. Horses will spend most of their lives there and they need to be comfortable and safe just like you are at home. Here are some things to look out for during construction:
The size of the equestrian that is determined by the usage and number of horses. The daily usage can help determine the amount of space required. If you will have an arena, you will see if the area will be covered and how many people you can accommodate.
You also need to figure out the type of building you want.
Ventilation is the most important thing when constructing the equestrian as the horses need to have sufficient airflow.
You also need to figure out the design of the indoor and outdoor areas. For the interior, you can take the size of the horse and the provisions that need to be stored into consideration. For the exterior, you can consider the riding area and parking space and the turning area for delivery trucks.
Why Use Steel for Your Equestrian
Steel is recommended when constructing your equestrian and you can also use it for additional accessories. By using steel, you ensure that your building can withstand weather changes, will not be affected by pests, and will save your money.
Safety
The safety of your horses is important. Equestrian steel buildings are safe and secure. They are not fire resistant like wooden structures and you will not have to worry about the horse shelter rotting and collapsing any time soon. Steel riding arenas and steel horse arenas are also safe for both horses and spectators. When you have an event, you will not have to worry about the audience stands collapsing due to the excitement. Rowdy horses will also be easily controlled and restrained in the meta horse barns.
Durability
Your equestrian facility needs to be durable and steel will ensure that it can withstand adverse weather conditions together with the normal use. When you choose to have a covered riding arena, you can increase the durability since the area will be better protected. The structures can also be easily relocated without fear of them getting damaged as they can easily be assembled and disassembled.
Minimal maintenance
With steel, you can be sure to spend less time and money on maintenance. As long as the steel equestrian is well constructed, you will not have to handle pests or have to treat the area to prevent rot. All you have to do is ensure that your horses are well fed, groomed and the horse arena is well kept and you are good to go.
People Who Viewed This Gallery Also Viewed
Warranties and Service
Available Products
I-Beam Framing: 26 Gauge Sheeting, C-Channel Framing: 26
I-Beam Structural Warranty
50 Years
Add Colors
Roof, Trim, Walls
Structural Warranty
50 Years
Galvalume Roof Warranty
35 Years
Project Manager
Included at No Additional Cost
Resources Selected for You
"Every time I've shown up to Armstrong Steel's Headquarters in the Denver Tech Center to discuss a building project with the project managers they are accommodating, efficient, priced right and they take care of our needs."
Shane, Denver, Colorado
"We purchased 7 steel buildings from Armstrong Steel. Everything went smoothly! My biggest concern when taking delivery was that not all pieces for my 7 buildings would be there, but not one piece was missing! We will definitely come back to Armstrong for our future projects."
William, Midland, Michigan
"I liked that the building designers work at Armstrong and not overseas in case I had any questions! I'm 75 years old and if I can do this, anyone can!"
Wes, Libby, Montana
"I knew I could trust Armstrong because they're the manufacturer! Getting my building was simple. It was well within my budget, plus I got it delivered on time, and most important exactly how I wanted it."
Gary, Gurley, Alabama
"Everything went so smooth from the design process to the building going up. If you're looking for the easiest way to buy a building, contact Armstrong Steel and get a building directly from the manufacturer."
Chip, Paramus, New Jersey