Armstrong Steel Customer Reviews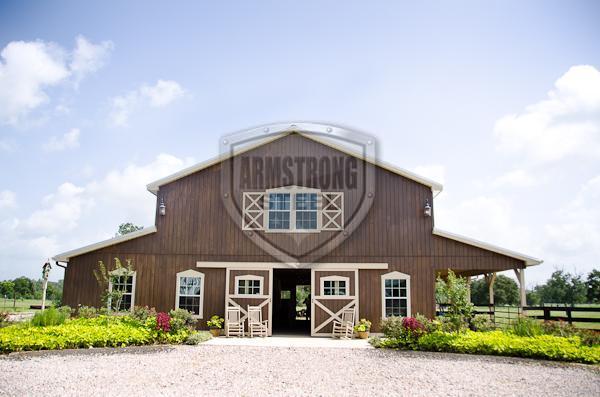 Americans trust Armstrong Steel everyday. Here are some of their stories.
Brandon R.
"Armstrong Steel was by far the best steel company to deal with. There was no high pressure sales, no nagging phone call. I just told them what I was looking for and they got back to me within 24 hours with a very competitively priced package. Everything was very straight forward and simple, from the ordering to the shipping and on thru the completion of the project. Nick and the rest of the guys at Armstrong made this project go smoother than I could have ever imagined."
Scott E.
"I purchased a 30x40 for a workshop. Armstrong was easy to work with and their design staff was great with addressing every need. The drawings were well done and easy to follow. The building was engineered for the high amount of snow we receive. I received a great, low maintenance building, and couldn't be happier!"
Dan M.
"This is my new Armstrong steel shop. It has been through a lot of weather in the last six months and it has not leaked a single drop anywhere. I really love this building. The sign over the garage door is a Steinlager beer sign and yes my dog and cat do sleep together."
Joe A.
"I am extremely satisfied with my garage, so much that I am going to come to Armstrong Steel for the next building to start my flea market business. My first building is everything I wanted and more in a garage. Nobody could beat Armstrong's qualities or warranties. It was a no brainer to buy my building from them. Everything about my building fit perfectly together and was fast and easily put up. Armstrong really is the way to go!"
Michael T.
"We had an old wood barn on our property we desperately needed to replace, so we called Armstrong Steel and agreed on a 52'x72' structure for our apple farm. We really needed an all-weather building because we're planning on using it for our agritourism business! We'll have some workshop space for my wife and I, plus a loft and a main area for farming activities, events and maybe weddings. I'm a professional civil engineer, so the steel building process isn't foreign to me. Buying a product remotely over the phone can cause some apprehension, but it's been smooth sailing with the staff at Armstrong. Thank you for all your help!"
Barry M.
"I really loved buying a building from Armstrong Steel. Everyone I worked with made the project as painless as possible. Their entire team was extremely kind and were very cultured. I knew I was dealing with the experts. Now I've got a 30 x 40 storage building right on the lake. I'm even looking to start a new project and I wouldn't trust my project to anyone other than Armstrong Steel."
Liz M.
"The buildings I ordered are of very good quality and we are pleased with both buildings - They look great! Armstrong's employees always treated us with kindness and respect when we had questions or issues and attempts were always made to resolve our concerns or answer our questions. That sure goes a long way. Thanks guys!"
Kim W.
"Armstrong Steel was a pleasure to work with from start to finish. Pricing was good and everyone I dealt with from first contact to delivery was professional and very prompt at providing answers when I had questions. I called the other day requesting additional sets of drawings and although I had to pay for them, the drawings were received the very next day, the service is excellent."
Hass G. and Alvis N.
"My grandfather and I are really into tinkering on cars and vintage automobiles, but we didn't have any place to work. We knew we wanted a steel building, so we compared General Steel and Armstrong Steel. We put a ton of time into researching each company, and Armstrong was clearly superior in every way. General Steel is just a middleman that buys their buildings from someone else but Armstrong Steel has their own factory in Denver. Big difference there. Armstrong let us pick paint colors, make modifications and gave us a dedicated project manager. Talk about service! We're able to actually make our steel workshop match our home. We're going to have a lot of fun with fixing up our 'old beauties' in our new shop."
Cody E.
"I love my beautiful Armstrong workshop. It is literally everything I wanted in a building! I was able to customize the entire thing. I really needed to make sure I had enough square footage for a workshop area to build my custom drift boats. At the same time, I also needed to have room for my home living space. You guys really helped me with getting the perfect living area with just the right amount of work space! I'll be sure to send you pictures ? once I'm finished with the final touches!"
David E.
"My Armstrong Steel shop is truly amazing. I couldn't ask for a better quality building. I love spending endless hours working on hot rods and rustic woodworking projects. Everyone I know compliments me on my workshop, and I'm always proud to show it off!"
Wes W.
"People look at my building all the time and ask where I got it from because it's right by the lake. Got everything I was promised and then some. I liked that the building designers work at Armstrong and not overseas in case I had any questions. Building is up and looks great! Now I can store all of my boats, 4- wheelers and trailers in the building to keep them covered and protected from the snow. I'm 75 years old and if I can do this, anyone can! God Bless."
Cheryl J.
"We are very pleased with the quality of our building! My husband & I spend a lot of time together in our building. He does metal work & welding, I enjoy jewelry making and stone polishing. We love how sturdy, secure and cozy it feels and the insulation keeps it pleasant to work in. We really love that our building is American Made!"
Mark P.
"I found Armstrong online while I was searching around and I'm glad I did. The sales team was very helpful and the cost was great. I considered a pole barn but the quality and price was nothing compared to Armstrong. I ordered my garage in July and scheduled for it to be delivered in November. The process was simple and the building was easy to erect."
Ken B.
"We live in Black Hills, SD, which is just too far away from our children and grandchildren. We finally decided to move to Colorado to be closer to family. We needed a building that's durable enough to store all of our belongings, and big enough to house our RV. Armstrong really delivered on both of those needs! Now, we're in the process of building our new home, and I don't know what we'd do without our Armstrong building. It's so nice to have somewhere to spend our down time. I have to say we love our new building. It's been a lifesaver!"
John B.
"When I started doing research for the right steel workshop, I knew I had to go with Armstrong Steel after looking at several other inferior building suppliers. Armstrong had all the traits I needed in a building company, a price that couldn't be beaten and a team that always kept me on track. The building went together without a hitch, and now looks amazing! I'm very thankful I chose Armstrong Steel in the first place."
Jeff M.
"My livestock feed and supply business grew out of our first warehouse and it really just wasn't holding up anymore. We needed a building where our supplies would be dry and safe. I was pleased that there was no smoke and mirrors with Armstrong Steel. My project was completely straightforward, but Armstrong still made sure we got the best building possible. The building was designed perfectly and delivered on time. Every part fit together as if it were a new children's puzzle set. I'll be sure to continue to recommend Armstrong Steel to everyone I know."
Janie F.
"He was so happy with the building, he took the boys to lunch and then asked them to supper and bought them steaks and beer. God bless and have a great 4th of July holiday!!"
John R.
"Your staff went above and beyond to satisfy my needs and wants. I purchased a 40x60 multipurpose facility and couldn't be happier! The building went together easily and nicely. I got a great price for a GREAT building!"
Dean J.
"I'm happy with my building! It went together how it was supposed to, and they were very helpful with any questions."