Armstrong Steel Customer Reviews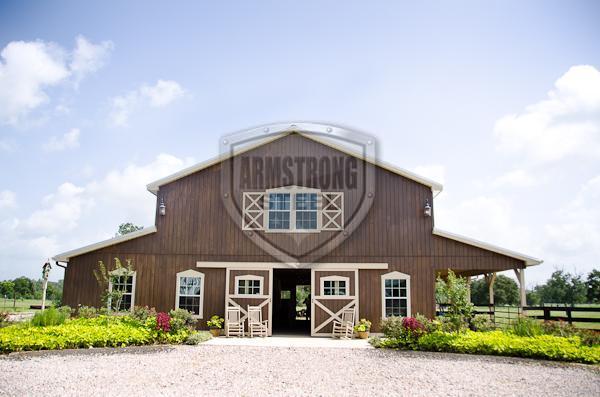 Americans trust Armstrong Steel everyday. Here are some of their stories.
Willy M.
"When I started looking for a steel building for my storage space, I was looking for a fair price with great quality. In all honesty, I wanted the best bang for my buck. When I found Armstrong, I knew I was getting exactly what I needed! Putting this building up on my own has been such a slick process, I am even looking to get another building just like it for all of my boats in Alaska. Thank you Armstrong! I look forward to talking to you soon about my second building. Keep in touch."
Lee F.
"Before I retired, I needed a quality horse barn, but I didn't want to build with wood. I decided to search for reputable steel building manufacturers, and came across Armstrong Steel's website. The site was so easy to navigate, but more importantly, it was the only site that could of er a variety of custom buildings. The entire process was a breeze. They certainly made it easy on me. Even better, when the building arrived, all the parts showed up on time and in perfect condition. The horse barn went up without a hitch and is still standing stronger than ever. To this day, I'll continue to send people to Armstrong Steel for their building needs."
Gary M.
"I have a house and several acres of land here in Gurley, Alabama, but I didn't have the proper secure space to fix up my cars. I also have a lot of farm equipment that needed a dry and safe storage area. I'm a farm boy with plenty of steel building experience, and that's the reason I decided to go with Armstrong. I knew I could trust them because they're the manufacturer! Getting my building was simple. It was well within my budget, plus I got it delivered on time, and most important exactly how I wanted it. I'm working on completing the inside with granite marble flooring right now, and I can't wait to show it off. It's the perfect hobby shop."
Al M.
"I'm extremely pleased with the way my Armstrong building turned out. I purchased my building with rigid frames at all locations. I highly recommend this option for ease of assembly, versatility and strength. This is the third steel building that I have assembled myself. (I did not give the previous suppliers a recommendation.) The detailing on the building was top notch. Kitty in the shipping department was a pleasure to work with. The building was delivered just as they promised. I rate this as an excellent building experience!"
Kevin R.
"I'm a welder and while I have no construction experience, I erected the building myself. It was very easy to erect, the plans were really detailed and helped out a lot. The building is solid and sound. It's hard to find the quality of Armstrong just anywhere and that's ultimately why I went with you guys. Bottom line, every aspect of purchasing the building went smooth with the help of the friendly employees at Armstrong. The quality of the building is unmatched."
John B.
"We've been building houses for people in need for years! We started with a mission to have a real home for women and families in need back in 2003 and we've grown so much over the years. In 2005, we wanted to expand our horizons and build a home for men, but nothing met our initial expectations. In 2013, we found Armstrong Steel. We turned to them and it has been such an easy process and we really couldn't have asked for such a great deal on a building! At Mission Carthage, our non-profit Christian organization that ministers to the poor and needy, we believe in 'giving people a hand up, instead of a hand down' and that's exactly what Armstrong has done every step of the way to support us. This steel building will truly have meaning. In fact, it isn't just a steel building ' it will be a place to benefit the community by helping individuals and families."
Romie S.
"I knew it was time for a career change, so I decided that I was going to become a gunsmith! I needed a building for my new gun shop, and at that moment I realized I had to research the best building supplier. I checked out Olympia and Rhino, but ultimately went with Armstrong because they had a price I couldn't beat, but they also had the nicest people! Customer service really matters to me. The best part was my building went together flawlessly and the end product was perfect. I'll continue to tell everyone about Armstrong Steel."
Jennifer P.
"My husband and I get tons of compliments on our building from everyone who visits. We're always happy to recommend Armstrong Steel to every single person who walks through the doors. First of all, Armstrong Steel was able to deliver a unique 'Barndominium,' and it's really the perfect living space. It's not your average building, though. Where else can you get a two story home, complete with workshop space AND a pool? That's what we got, and we love it! We like to call it our own permanent vacation spot. Armstrong really made our dream come true, and we look forward to enjoying it for years to come."
Scott L.
"My building fit together great and was fairly easy to put up myself. Everything is plum and square. Whenever I had questions during the assembly, my questions were answered right away. I will be choosing Armstrong again as I'm considering another structure down the road. Excellent customer service, guys!"
Brian M.
"I'm in the aviation industry and my dad's worked with metal buildings for over twenty years. We love our Armstrong Steel Building. Armstrong wasn't the cheapest but, bottom line, YOU GET WHAT YOU PAY FOR! Going with the cheapest always winds up costing more in the long run. I'm glad I chose Armstrong Steel and that's why I insisted my friend Martin, who owns a flight academy, call them for his hangar (Cobra Kai Steel Hangar) too."
Freddy S.
"I chose Armstrong because the price was great for the quality building I received. The competition here in Texas was more expensive for not as great of quality. I trusted Armstrong Steel and really liked how they didn't required I pay most of it up front, unlike other companies I had looked at who required 50%. Being able to pay the remaining balance upon delivery really put my mind at ease, I knew I was in good hands. I love my 50x100 barn!"
Ryan C.
"Armstrong Steel was GREAT! My project manager walked me through every step of the way, and made sure I knew exactly what was happening at all times. Anytime I had a question or even a concern, everyone was always eager to get me the answers and a resolution as soon as possible. I'm not kidding when I say my experience was absolutely great. I love spending time in my shop!"
Buddy G.
"I just began retirement and boy am I thrilled to kick it off in this amazing Armstrong Steel building! We've turned this building into our own little multipurpose hunting getaway! We have 4 bedrooms and 2 bathrooms in one end and then still have enough room to store my 4-wheelers, tractors and all of the hunting supplies. We love this building so much! In the next couple of years when we are ready for a new house, we'll be sure to come to you first!"
Miguel B.
"I've been in the retail business since the 90's, and due to my company's success, I started to outgrow my current building. I really needed a warehouse where I could store all my extra inventory. I made the call to Armstrong Steel, and from the get-go, they took care of me. Not only did I receive A+ customer service, they worked within my budget and the delivery was on time. I'm building the warehouse now, and anytime I call and have a question about the plans or the building itself, everyone at Armstrong is always eager to help. I'm excited to introduce the rest of the Odessa area to Armstrong Steel!"
Patrick M.
"Just thought I'd let you know the building is up and it looks absolutely freakin' gorgeous! My county inspector has a Morton Building, he's had problems with it now for the last ten years and he was shocked at how sharp my Armstrong building wound up. Even my neighbor walked over and went 'Oh my God!'. Thank you!"
David B.
"First impressions are everything! The salesman I talked to at Armstrong Steel was very helpful and informative. I had called 2 other steel building companies before deciding to go with Armstrong and I did not feel comfortable spending that much money over the phone with anyone other than Armstrong. Armstrong Steel also offered the best value. I got the biggest building at the best price and the quality is second to none. The process went very smoothly and I erected the building myself. I was very impressed with how well everything fit together. Armstrong delivered exactly what they promised and there were no surprises."
Denny H.
"Nicely engineered Armstrong Building to keep our toys safe in Northern MN. Installed 60,000 BTU Reznor LP gas heater to keep barn temp at 45 degrees during our harsh winters where temperatures range from -40 below to up +90 degrees above in the summer. We needed a building with super strength to handle the snow loads & maintenance free, unlike my log cabin & log garage which costs over $10,000.00 every 4 years to pressure wash, sand and put on 2 coats of stain. A steel building fit the bill perfectly. Thank you for a great building!"
Tom M.
"I am counting the days until I get to move into my Armstrong Steel building - or should I say the retirement house of my dreams! I'm so excited to be able to design the open concept floor plan. It's going to be a 2 bedroom, 2 bathroom house with an amazing space with my living room, kitchen and dining room all in one area! Armstrong gave me the ability to accomplish all of that in a 35x65x10 steel building. Being able to do all of this myself has been a breeze! I love the ability to have all this open space. I'm glad I didn't choose a wood building, because I would have been so restricted in my choices. I would definitely recommend Armstrong to my friends and family in the future, especially if they are looking for a wonderful home!"
Eric J.
"When I was working in the foam molding industry, the company I worked for was presented with the opportunity to become the manufacturer of our product. Working with foam can be pretty tricky sometimes as it has to be in an area where temperature can be controlled. I found Armstrong's website and they were able to provide so many educational resources geared at first time builders like myself. My favorite part of the website was the virtual steel building. It was so easy to visualize what I needed, and explain each part of the building. I took the website material straight to my company board of directors even before I had tangible plans. In all honesty, those website features are why we chose Armstrong in the first place."
Ken S.
"I purchased 2 buildings from Armstrong Steel for equipment storage, a 30x100 and a 60x60. Both buildings are up already with equipment in them. It was perfect and the buildings really look awesome! Our contractor was very pleased. He was really impressed with how quickly and easily your buildings went up. The process from start to finish was very professional, and the building was done right. There are other steel buildings in the area, and the Armstrong buildings look 10 times better. A lot of people are really starting to notice them. I would recommend Armstrong Steel!"