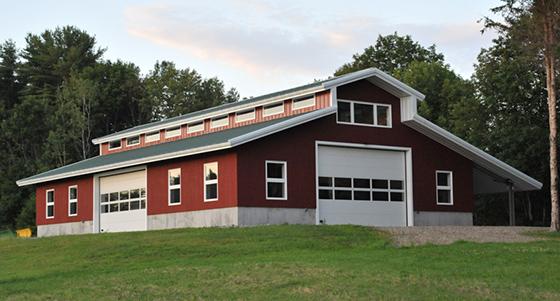 Read Derek's story and how Armstrong Steel helped him with this truly unique steel building
A Masterpiece in Rural Maine
We say it all the time, but a steel building can be as attractive as a traditional brick and mortar building – even more so – and affordable, as well. If you need proof, take a trip to the north eastern tip of the U.S. and there, you might stumble upon a 50x75 red workshop which sits atop a hill overlooking a 300 acre farm. If a trip to rural Maine isn't in your immediate plans, then simply read on.
At first glance, the red structure looks distinctive but not particularly sumptuous. That is, until you open the doors and learn the story of how 400 years of timber history and one man's desire for an equipment maintenance shelter collided to create the striking Armstrong Steel monitor style building he now calls his dream workshop. When you witness the building from the inside out, it'll take your breath away.
"I had no idea what to expect when I began this process," says Derek L. from Maine. "I was looking for a high quality building – constructed well with sturdy components – and I found Armstrong Steel online. The message focused on quality, not price, and that was attractive."
Derek had some requirements which had to be met. "I wanted a lot of natural sunlight, that's why I chose the monitor style. I could add 18 additional windows along the upper roof portion [9 on each side] and have cathedral ceilings which would accommodate the large farm equipment I'd be working on and storing in the building."
A Comfortable Place to Work
The building had a practical use. Working the expansive 300 acres he calls his summer home requires heavy machinery, as well as attachments to those machines – all of which need maintenance in order to remain operational. Because Maine isn't known for its sunny and sultry climate, Derek needed a warm place which would provide shelter and comfort during the harsh winters; a place where he could work on his machines or home improvement projects; a place where he could store lumber so it wouldn't be exposed to the precipitation – an 'Uber Shop,' he calls it.
"I wanted the interior to be comfortable and well insulated; I wanted it to look nice, like a place I could spend hours in and actually enjoy those hours," he says.
Another requirement Derek had was that he didn't want steel panels on the exterior, he wanted wood; and not just any kind of wood.
Derek wanted one inch oak slats, 12 feet long and 22 inches wide which he could then treat and finish; and not just any kind of treatment and any kind of finish.
Functional History Meets Modern Design
Derek, who travelled extensively through Europe, was especially taken by the bright red barns which are found throughout northern Sweden – called Falun Red Barns. He wanted a Falun Red Swedish-Style finish with a steel frame, roof and trim.
Falun Red finishing isn't something done entirely for aesthetics. The process is time consuming and labor intensive. The iron oxide stain comes from a mine and has protected Swedish wood for over four centuries; it serves as an insecticide and averts the need for costly repainting over the years. The process is done mostly by hand, much the same way it's been done since the 17th Century.
The exterior of Derek's building was decided upon, but as it's been said, 'it's what's inside that counts!' And Derek made it count – big time. The interior of Derek's steel workshop was to be a masterpiece of woodworking which rivaled some of the most magnificent Falun Red Barns. Derek's workshop steel building was to be paneled with intricately cut and perfectly aligned white Ash and coated with a water based varnish to highlight the vibrancy of the quality material.
Unlike most steel buildings which have wall panels that can be removed in the event insulation needs to be replaced, Derek's wood finish would not be so easy to dismantle. For this reason, Derek opted for spray foam insulation rather than the blanket roll insulation, which is the most common. Spray foam is a more expensive option and changes some of structural design elements, but it lasts longer and, in this case at least, it was the best option.
The Armstrong Advantage at Work
When Armstrong Steel says that no project is too big or too small, we mean it. And when we say that we aren't just selling buildings, we're creating dreams, we believe it. Derek's metal building wasn't going to be a standard cookie cutter design. No building is, really, but this one had structural and delivery requirements which were special, to say the least.
The snow and wind load requirements are already high in Maine. When you add the weight of the exterior oak and the interior Ash, the load calculations became complex. Not to mention, aesthetically, the rigid frame couldn't be intrusive so as to detract from the paneling, and the whole point of choosing a monitor style building, for Derek, was the clear span interior ceilings and the unobstructed natural light this style allows.
The cathedral ceilings had to support the exterior wood, the snow loads, and the interior Ash paneling and be constructed to accommodate spray foam insulation, which also weighs more than blanket roll insulation. The walls had to support these same things as well as the weight of the whole roof, and the glass which would line the 75 foot length of the upper roof. They also had to be engineered for three 20 foot high roll-up doors and the machinery to operate the doors. That's a tall order - 20 feet tall, in fact!
Armstrong put our in-house engineering team to work, requiring additional engineering certifications for the unique geography and climate of rural Maine – which we acquired at no cost to our customer.
Derek's metal building would be designed with extended overhangs for additional outside storage space and would be trimmed with a Colony Green steel roof (one of Armstrong's stock spectrum of colors) and matching steel trim. This color matched perfectly with the existing structures on the property which was important to Derek.
The foundation includes radiant heat and a three foot stem wall to help keep the cold winter winds or the stubborn snowfall from sneaking into the interior. "When it's cold and windy outside, the inside is a balmy 55 degrees or more, and it's not too expensive to keep it that temperature because of the thick spray foam insulation, even in the ceiling,' says Derek with a slight hint of pride.
It wasn't only the Armstrong engineering team which had to face complexities with respect to this rural Maine beauty, it was also Armstrong's modest logistics team. "Cement trucks and flatbed trailers can't travel the roads in Maine before April because of the possibility of frost heaves (damaging grooves to the asphalt caused when heavy trucks travel on frigid pavement)," explains Kitty Uhle, Armstrong's Logistics Manager. "We had to plan fabrication and delivery times which would make it possible to erect the frame and the exterior during the summer months while providing enough storage and warmth to complete the interior during the winter months."
When the building arrived, as scheduled, and the erector unloaded the truck he noticed that Armstrong had included roof clips which could not be used with the spray foam insulation. "I was alarmed that this would create a delay to the construction timeline," says Derek, "I only had a short window in which to complete the exterior before it became cold and windy."
This is where Armstrong's size and ability to be responsive is most important to our customers – in times of potential crisis. "We got new clips on site within a day or two, before his erector got to the point where he would need them," says Kitty. Armstrong absorbed the cost involved with fabricating and shipping the replacement clips; Derek incurred no additional expense; the price Armstrong paid was a non-issue when it came to the value we put in creating a good customer experience.
Delivering On Our Commitments
"Armstrong Steel stood behind the product, and stood behind their promises," says Derek. "At the end of the day, all that matters to me is that I got the building I envisioned and then some; and Armstrong Steel made it happen."
At the end of the day, that's all that matters to us, too.
To learn more about Derek's building and other Armstrong Steel Buildings, please visit maps.armstrongsteel.com