START HERE: Price Your Building Now!
Steel Building Tips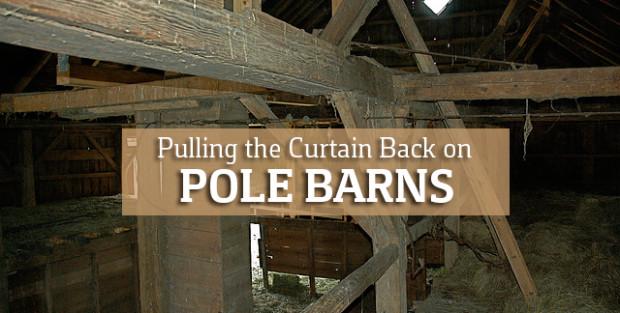 Pulling the Curtain Back on Pole Barns
Remember the movie The Wizard of Oz? I think everyone's seen it so I'm not really spoiling the ending. Near the conclusion of the movie, upon further inspection, we find out that the "great and powerful" Oz is simply man behind the curtain, not a wizard like the characters were led to believe. Don't be… …
A Beginner's Guide: Steel Buildings vs. Fabric Buildings
Building a new workshop, storage area, or commercial building? There are a variety of building types and building materials to choose from. The right materials depend on each individual's needs and budget. Some of the most common building types include steel, wood, fabric, stone, and concrete.   Each material type has advantages and disadvantages for the… …
Don't Make These 3 Blunders When Buying a Steel Building
Wouldn't it be great if every time you were about to make a purchase, someone stepped in and told you about all the things that you could do wrong when making it – especially when making a large purchase like a steel building? The Steel Building Insider is that resource, and, believe me when I… …
An Insider on Steel Airplane Hangars
It's sleek. It's lightweight. It's sturdy. It's modern and retains or increases in value the longer you have it. Polished metal, brilliant color, without saying a single word it screams that you've made it and you love flying. But it isn't your new plane, it's your hangar, and it's made of steel. Hangars have always… …
3 Ways to Prevent Overspending On Your Steel Building
Your steel building project doesn't have to break the bank. Though steel building prices vary throughout the year, there are ways to prevent overspending on your first steel building. You've already saved yourself money by choosing a steel building over a brick and mortar constructed building. These tips will help you avoid construction setbacks to… …
An Insider on How to Pay for a Steel Building
Cost is always an issue when it comes to how to pay for a steel building, right? I'm frequently asked, "what are my options," when it comes to financing the purchase and while I'm certainly not giving you any sort of financial advice, I'll talk about what some people have done. Personal Savings – Steel… …
6 Ways To Raise Money For Your Practice Field
High School football season is approaching, if it hasn't begun already. Your team needs a new practice field, and it's not going to pay for itself! Not to mention, you'll need to erect a prefab steel building to house equipment, a bathroom and a locker room. Luckily, there are more than a few ways to… …
Stay Sane During a Metal Building Project – Prepare Your Job Site For Delivery!
If you've ever played with Legos you know the kind of planning that goes into making that amazing castle. You buy the kit, you open the instructions, you prepare a place to construct your blocky masterpiece, and you have a contingency plan on what you're going to do should you have to stop mid-construction. It's… …
Pole Barns vs Steel Buildings | Don't Make The Wrong Choice
We are frequently asked about pole barns – and there's good reason. Many of our customers believe that pole barns are a simple way to meet their agricultural or even storage needs. Pole barns often serve as workshops or make-shift garages in a pinch.  But the benefits of a steel building outweigh the cost benefits… …
Getting a Steel Building Quote Factory Direct
The first step toward getting your project started is getting a price! You may either call us directly at 1-866-487-0473 or answer a few questions below to receive pricing.