START HERE: Price Your Building Now!
Looking For More Space? Utilize a Mezzanine Floor!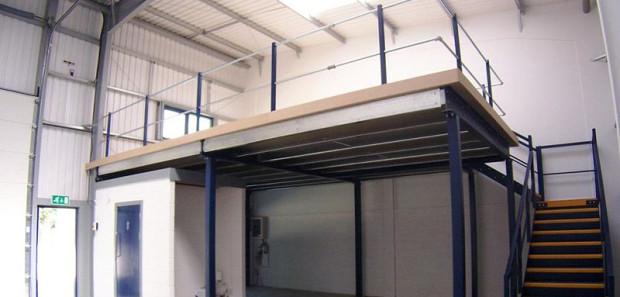 Everybody likes to get more for their money. I know I'm guilty of purchasing things I don't necessarily need because the deal is just too good to pass up. The same principle can apply to your clientele. If one of your customers wants a building with more space, but can't sacrifice the square footage, it might be a good idea to suggest the implementation of a mezzanine floor.
A mezzanine floor is simply a raised platform that is located between the floor and ceiling of a building. This platform can be used to double the space in a steel building.
Mezzanine floors can be built with steel, fiberglass, or aluminum. Fiberglass is durable, but liable to crack if too much stress is applied to it. Aluminum can be a smart decision when building due to its durability, but tends to be more expensive. A steel mezzanine floor will be sturdy and is typically more cost effective than aluminum. Steel is more durable than fiberglass and won't crack due to pressure. Quality steel is made to last a lifetime. Steel also requires little to no maintenance, and steel buildings offer great resistance to fire, insects and termites. With the proper steel building coatings, such as the galvanization of secondary framing, you can protect the steel from rust and moisture.
Like a steel building, a mezzanine floor is designed to fit the dimensions your client desires. The mezzanine floor is adaptable and isn't intrusive. This let's you and your client erect a building that has favorable aesthetics. Let's face it, whether it's a business or residential building, it needs to be pleasing to the eye. Along with being aesthetically pleasing, a building needs to accommodate space for inventory, employees and customers. The shelf items need displayed and customers need room to browse and feel comfortable, but as I'm sure you know, a steel storage building will have extra items stocked up to replace the shelf items. A mezzanine floor can be used to store any stockpile of items, or as an upstairs office.
A residential building can benefit from a mezzanine in a similar way. If your client wants to add another room to their house, but doesn't want an odd looking addition, a mezzanine floor could give them the room without ruining the initial design.
There are four different types of mezzanines and they can be incorporated into a design based on your client's needs. The first design is referenced by many names such as free standing, structural, steel, or wide span mezzanines. Regardless of what name it goes by, a free standing mezzanine offer great flexibility in set-up and restructuring if needed.
A second design, called 'building supported', can be incorporated as long as the foundation can support the load. A blended system can be incorporated if the design of the building isn't optimal for the entire load. In a blended system, the mezzanine is supported by both the building and by additional columns. It's a good idea to always check with a project manager or engineer if you plan on adding a mezzanine to your steel building.
A 'rack supported' mezzanine can be added to existing storage racks to provide more storage space. Of course this depends on the strength of the existing storage racks. If the aforementioned storage racks are strong enough, catwalks can be installed as well.
'Shelving supported' mezzanines are another option and are ideal for storing smaller items. The shelving supported mezzanines are a cost efficient way to efficiently use your client's existing space, but it is also the hardest mezzanine to reconfigure once it is erected.
When is the best time to include a mezzanine? Any time is ideal to include a mezzanine floor in a building. As I stated earlier, including a mezzanine in plans for a new building will allow your client to build a smaller building and still make the most efficient use of the space provided. Should your client have the urge to include an employee lounge in their already standing office building, a mezzanine is the perfect addition. Again, it's a great idea to speak to an engineer or project manager at a steel building supplier to confirm a mezzanine system is right for your or your client.
Photo courtesy: Robert Plant
---
---
« Why Don't You Want to Expand Your Business?
What's the Best Advice You've Ever Received? »
PRICE A
STEEL BUILDING
IN MINUTES NOW!
---
Popular Posts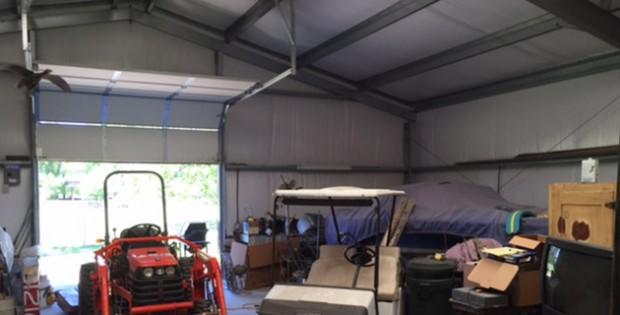 Will Adding a Steel Building Increase My Property Value?
I've seen steel buildings increase in popularity every day because builders use these durable, versatile and flexible construction solutions in every application. Not only have homeowners utilized a steel building for residential purposes, but builders have also made additions to their existing property. No doubt that a steel building garage will increase the value of a home, …
Will Adding a Steel Building Increase My Property Value? Read More »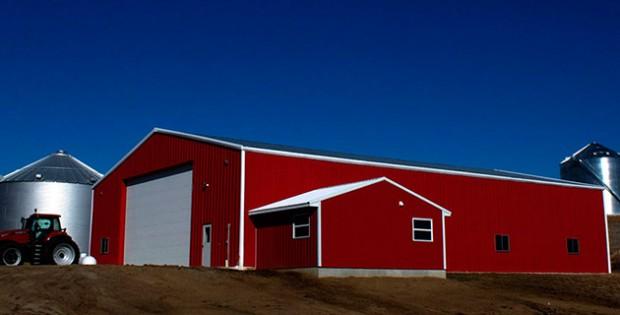 Steel Building Quotes: Get a Grasp on Prices and Estimates
What is the first step of a steel building project, or any construction project for that matter? After you decide to add a new garage, agricultural or commercial building to your property, you'll most likely start contacting steel building manufacturers for steel building quotes. From there, you can create a timeline for yourself and develop …
Steel Building Quotes: Get a Grasp on Prices and Estimates Read More »