START HERE: Price Your Building Now!
A Beginner's Guide: Steel Buildings vs. Fabric Buildings
If you're in search of new workshop, storage area or commercial building, and you're committed to the research process, chances are you'll come across tons of information comparing several different types of buildings. Ultimately, your decision should be based off of your needs and your budget.
So what approach should you take when looking at steel buildings, and comparing them to wood or even fabric buildings? While each side has advantages and disadvantages, there are only a few key factors that should influence your decision.
First off, there are several different types of building styles that can eventually become fabric-covered buildings.
Hoop Buildings – Hoop buildings are typically used for housing swine, livestock or hay storage. They are generally composed of light gauge steel arches, usually mounted on sidewalls of wood, concrete or steel. Attaching the arches to the sidewalls allows the wind and roof load to be transferred to the ground. This allows you to avoid intrusive poles, but this design is fairly limited in terms of space. Because of the curved roof, like a semicircle, the amount of usable space is decreased.
Quonset Huts – Quonset huts have a long history of being a quick and initially cheap building to erect. They usually employ a curved roof, much like a hoop building. During World War II, the U.S. Navy used Quonset huts for protection and cheap storage. However, creative engineering practically made this design obsolete. Still, people use this type of building to this day. The rounded design allows a Quonset hut to shed rain and snow quickly, but a rounded design also means less space in corners. If you can live with a lack of usable square footage, you'll find Quonset huts to be a serviceable option for a building choice.
Rigid Frame Fabric Buildings – What you lose in square footage, sidewall and ceiling space in a quonset hut, you gain in a rigid frame building. A rigid frame building utilizes a clear span design and can span hundreds of feet before needing any kind of interior support. The weight of the roof is supported by the walls in a rigid frame building. Just because it's called a rigid frame building doesn't mean your design choices are rigid or limited to a box. You're free to design a building the way you like it. After a rigid frame is installed, a mono-cover or multi-panel fabric membrane tightly covers the rigid frame.
Basically, the above styles of buildings usually require a metal frame, and that's the good news. Steel framing, as opposed to wood framing, is much more durable and built to last for multiple decades. But what about the actual fabric?
Durability
Fabric buildings, or tension membrane structures as some companies might call it, drape a large piece of fabric over the frame of the building. The fabric is pulled extremely tight and molded or manufactured to each building frame. Sure, a fabric building isn't a simple tent, and I'm not suggesting the fabric is a piece of simple material like something you'd pick out of a clothing store. However, no matter how you slice it, fabric isn't as durable as steel. Mono-cover fabric membranes can rip and spread, exposing the inside of the building to the elements. That means one potential rip from the wind can ruin the whole piece of fabric. Some companies might sell a fabric cover with individual pieces or panels, so the whole fabric cover isn't lost to a single tear.
Pre-engineered steel buildings, equipped with a steel roof and wall sheeting, are designed to last for decades. Steel most certainly can't rip, tear, warp or decay. It can withstand a fire due to its high melting point of 2500 degrees Fahrenheit. Fabric is considered a limited-combustible material , whereas steel is non-combustable.
Fabric manufacturers will advertise replacement fabric on their sites. This isn't a main selling point for steel. The framing, siding, roofing and trim of a quality steel building is designed to only need little to no maintenance and can withstand your climate and environment, and most importantly, is designed to last for decades! If the front page of a website is advertising replacement materials, it makes me think this is a common problem. Do you want to pay to replace your roof every couple of years, or every single time there's a big storm in your area?
Price
A pre-engineered steel building with steel roofing and sheeting might initially cost more than a fabric building, but it'll also last decades longer and will be resistant to the elements, termites and even mold. This is backed up by the fact that insurance companies will typically give metal building lower rates because they're aware of the obvious durability. Over time (and you'll have a pre-engineered metal building for generations) the cost of a metal building will be significantly less than other traditional construction methods. Typically, pre-engineered metal buildings are half the cost of those conventional construction methods, and can be erected in half the time.
To be honest, you truly get what you pay for when it comes to construction. Cheaper isn't always better, and the prospect of saving money upfront is completely negated if you are forced to spend money every year for replacement parts or to correct problems. Each connection of a pre-engineered metal building is hand detailed, precision engineered, and triple checked. The painstaking work that goes into each building is obvious when it arrives onsite and goes together seamlessly.
Some types of fabric buildings don't need a concrete foundation. This is often touted as a way to make your building project cheaper. While you are cutting the cost of a foundation, you're making the decision to erect a non-permanent structure. Permitting offices around the country don't consider buildings without a foundation to be permanent structures. Permanent structures can raise your property value over time. Hoop buildings and quonset huts may cause your land to depreciate or, at the very best, stay the same.
Space
Fabric building providers like to tout their use of a clear span design to provide their customer with a large amount of uninterrupted space. They also utilize membrane fabric covers to keep the building warmer in the winter and cooler in the summer which could result in low operation costs from lighting, air conditioning and heat. However, these features aren't exclusive to fabric buildings.
A clear span steel building doesn't require any internal columns or trusses of any kind for support. Loads are transferred from the roof to the walls and down to the foundation. Basically, these buildings are designed to transfer loads from the roof to the foundation without truss systems, leaving the entire square footage open and available. This design really provides you the maximum amount of space for storage and allows you to store anything from tractors, farm equipment or even an airplane! Clear span buildings don't use a truss of any kind. Most builders usually go for metal framing over wooden trusses because of the extra space and strength.
Add the proper insulation to your pre-engineered steel building and you'll greatly reduce the amount of airflow and temperature change in your building. Green technologies such as solar energy and geothermal energy along with vents, light timers and HVAC systems can all be incorporated into your pre-engineered steel building's design to lower your energy usage and costs. A white painted roof will reflect the sun and lower your building's temperature. Plus, you can incorporate skylights into a pre-engineered metal building to supply natural light to the inside of the structure.
Erection Process
A pre-engineered steel building can be erected in as little as a few days depending on your level of experience and help. Typically, a 5-7 man erection crew can knock out a 40×60 building in a weekend! The beauty of a pre-engineered steel building is all of the pieces arrive ready to be assembled, unlike wood construction, which arrives to a job site as raw lumber. Many fabric building manufacturers suggest you find an experienced crew to erect your building, however, you can save a lot of money in labor costs by erecting your pre-engineered metal building yourself!
Fabric isn't the best fit for every building application, but as a first time builder, you need to make the best decision for your project and budget. Many people make the decision to go with steel everyday.
Time to sound off: What type of building do you prefer and why? Tell us about it!
Photo courtesy: Grant Montgomery
---
---
« More Evidence Steel Buildings are Smarter Than Pole Barns
How Can a Metal Barn Save a Farmer Money? »
PRICE A
STEEL BUILDING
IN MINUTES NOW!
---
Popular Posts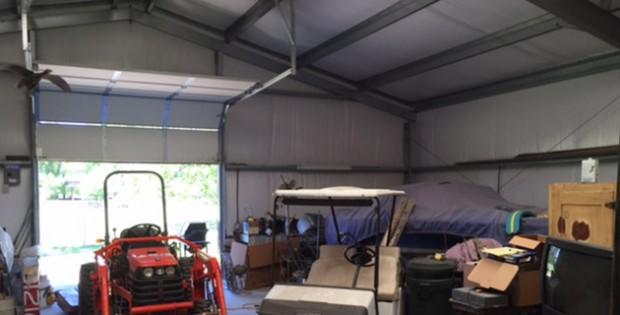 Will Adding a Steel Building Increase My Property Value?
I've seen steel buildings increase in popularity every day because builders use these durable, versatile and flexible construction solutions in every application. Not only have homeowners utilized a steel building for residential purposes, but builders have also made additions to their existing property. No doubt that a steel building garage will increase the value of a home,… …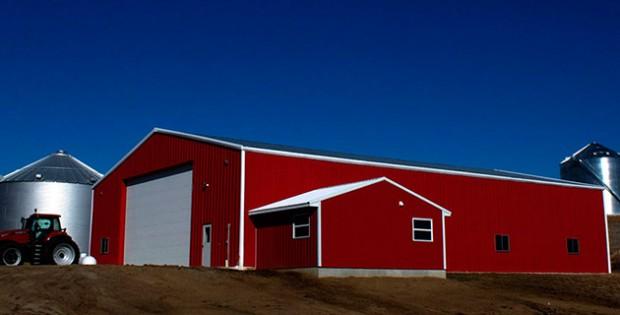 Steel Building Quotes: Get a Grasp on Prices and Estimates
What is the first step of a steel building project, or any construction project for that matter? After you decide to add a new garage, agricultural or commercial building to your property, you'll most likely start contacting steel building manufacturers for steel building quotes. From there, you can create a timeline for yourself and develop… …